5 recipes to celebrate World Sandwich Day!
There is no easier and more versatile recipe than a sandwich! With few ingredients such as ham and cheese, if you are a lover of salty or if you have more sweet tastes, a sandwich of peanut butter and strawberry jam…Yummy, a classic!
Without a doubt, the SANDWICH has conquered the whole world and came to be our best ally at all moments. There is a whole world of possibilities when it comes to this famous dish, but do you know how it originated?
It all started as a coincidence in the 18th century, when an English aristocrat named John Montagu, Count of Sandwich IV, was at a card game, and to avoid getting his fingers dirty, he asked for a piece of meat between two slices of bread. This is how infinite possibilities for making a sandwich arose, and World Sandwich Day was proclaimed for the count's birthday on November 3rd. So, what a better way to celebrate than with 5 delicious Velas Resorts-style recipes!
Fish mustard and vegetables open-faced sandwich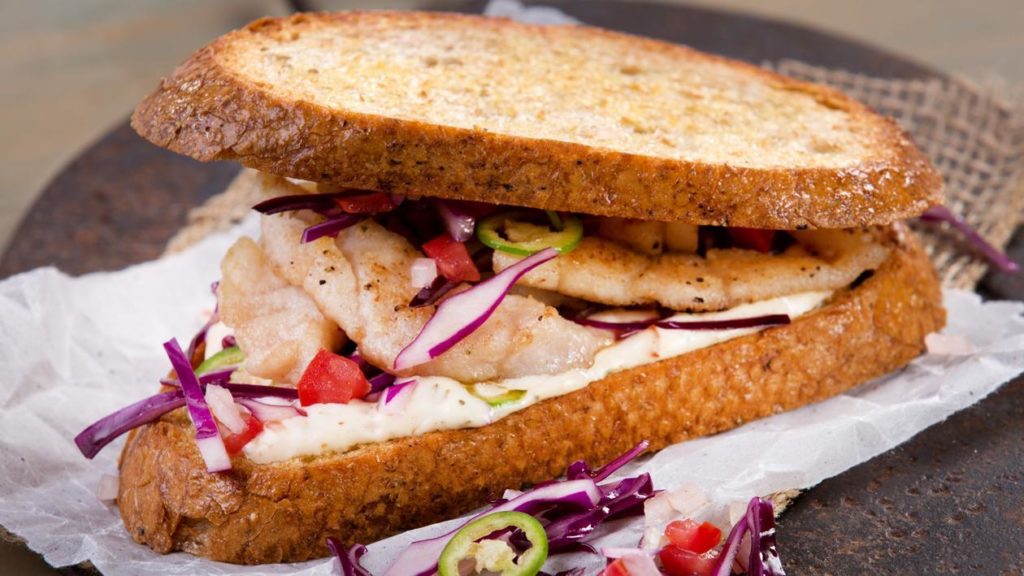 Ingredients (4 portions)
For the fish
21 oz of white fish fillet
7 oz of dijon mustard
2 fl oz of extra virgin olive oil
½ oz of garlic, minced
1 oz of thyme
¼ oz of fine salt
¼ of ground black pepper
For the vegetables
9 oz of mushrooms
5 oz of cauliflower
1 radicchio lettuce
11 oz of red onion, sliced
1 oz of minced garlic
1 oz of thyme
5 fl oz of extra virgin olive oil
½ oz of fine salt
¼ oz of ground black pepper
1 lemon
For the sandwich
4 slices of peasant bread
3 fl oz of extra virgin olive oil
5 oz of dijon mustard
Garnish
Fresh coriander leaves
4 oz of baby arugula
Extra virgin olive oil
Preparation
For marinating the fish (marinated 4 hours in advance)
Put the fish in a bowl with the mustard, olive oil, finely chopped garlic, and thyme; mix very well so the fish gets all the flavors.
Season with salt and pepper.
For marinating the vegetables
Chop the radicchio lettuce, mushrooms, cauliflower, and onion.
In a bowl, put all the vegetables with fresh thyme, extra virgin olive oil, finely chopped garlic and reserve for 2 hours. Season with salt and pepper.
For cooking the vegetables and the fish
Once the marinating time is over, put the vegetables and fish in separate pans.
Let it cook for about 7 minutes, until you get a deep golden brown, to get a smoky flavor and maximize the tones of the dish.
Put the cooked ingredients in a bowl and pour lemon juice and olive oil over.
Chef's tip: If you are looking for a combination of flavors you can mix all the ingredients; otherwise they can be kept separately for plating.
For the sandwich
With a brush, place olive oil on both sides of the bread and put it on a grill or frying pan until it is toasted.
Spread dijon mustard and put fish and vegetables on the slice of bread; finally, add olive oil and some coriander and arugula leaves.
Roasted pork loin and cauliflower sandwich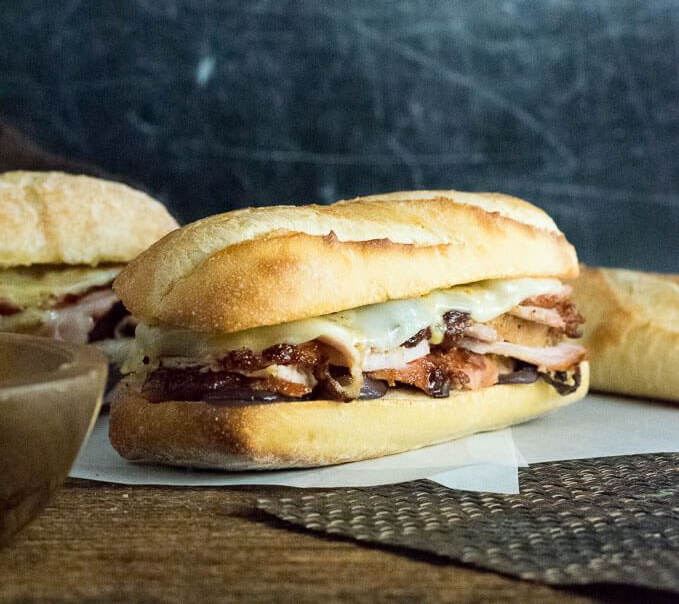 Ingredients (8 portions)
For the sandwich
2 lb pork loin
1 tbsp. olive oil
Salt and pepper to taste
1 pc. medium onion
2 oz sliced bell peppers
1 oz minced garlic
1/2 lb Swiss or Provolone cheese
Crusty French bread (enough for 8 servings)
For the spicy cauliflower salad
10 pc. hard-boiled eggs
20 oz pre-cooked cauliflower florets
2 pc. green onions, chopped
¼ cup of mustard
¼ cup of dill pickle relish
1 cup mayonnaise
2 stalks celery, finely chopped
Salt and pepper to taste
1 tbsp. paprika
Preparation
For the pork loin
Preheat the oven to 350º F.
Rub the pork loin with cooking oil, and salt and pepper.
Place in the oven and roast evenly for approximately 1 hour.
While pork is roasting, you can choose to sauté, grill, or caramelize onions, bell peppers, and minced garlic.
Remove pork loin from the oven and let rest for 10 minutes.
While pork loin is resting, slice open the French bread and lightly toast the interior until beginning to brown. This can be done in a toaster, in a hot skillet, or under the broiler.
Thinly slice the pork and place on the French bread, then top with Swiss or Provolone cheese. With the sandwich lying open, place briefly under the broiler set on high until cheese is melted.
For the spicy cauliflower salad
Cut the boiled eggs in halves, remove yolks and chop the whites.
Place yolks in a bowl, mash with a fork, and mix with pickle relish, mustard, mayonnaise, salt, and pepper. Set aside.
Mix cooked cauliflower with egg whites, green onions, and celery. Add egg sauce and sprinkle paprika on top.
Top the sandwich with the salad.
Chef's tip: If you have some cabbage at hand, you can substitute the cauliflower salad for coleslaw.
Classic grilled cheese sandwich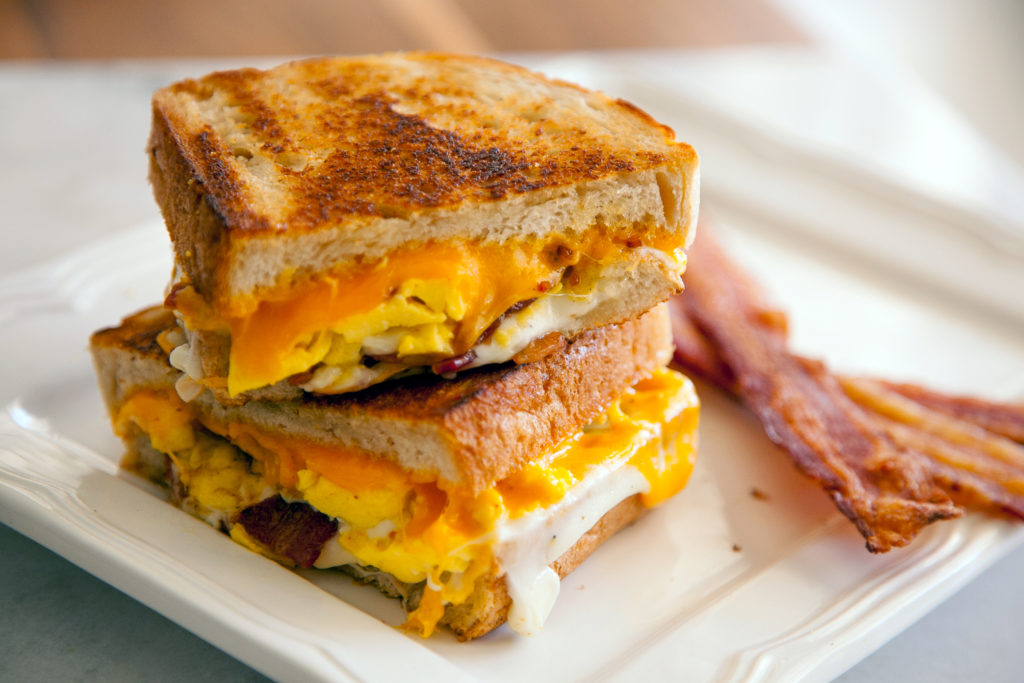 Ingredients
4 sandwich bread slices
2 ham slices
2 cheese slices
2 eggs, fried over easy or thin omelet folded in half
1 tomato, cut into slices
1 butter or oil (butter is better)
Salt and pepper
Preparation
On a non-stick pan, cook you beaten eggs, seasoned to your taste.
Prepare the bread slices with ham, cheese, tomato slices, and your cooked eggs.
On a frying pan, on medium heat, add your butter and grill cheese sandwich. Cook gently until golden brown, turn over, and add a bit more butter. Repeat the process. Served hot with a salad if available.
Chef's tip: If you prefer your egg sunny side up then you should serve it over your sandwich when done.
Tuna and avocado open-faced sandwich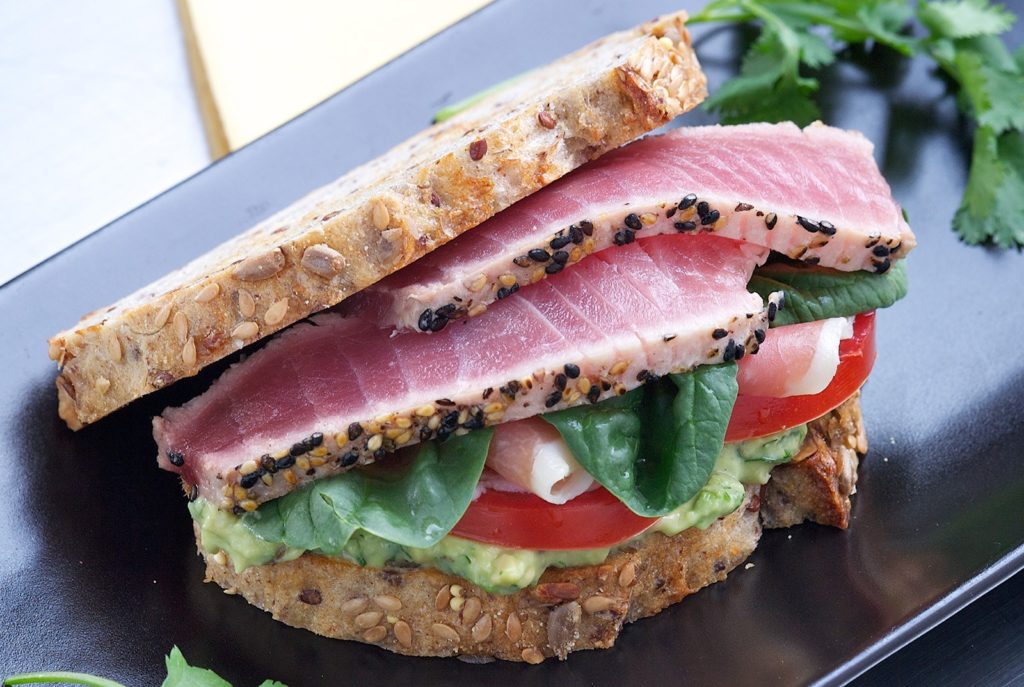 Ingredients
1 pound of tuna steak or 2 regular size cans
2 oz of sesame seed oil or virgin olive oil
3 oz of soy sauce
2 oz of chives
3 oz of red onions
2 oz of fresh cilantro
4 pc of sliced bread or toast
2 pc of medium avocados
Salt and pepper to taste
Preparation
Chop and mix red onion, chives, and cilantro
Cut the tuna steaks into small cubes. In a large bowl mix them with the chopped ingredients, salt, and pepper to taste. Stir in sesame seed oil (you can substitute with olive oil or avocado oil) and the soy sauce. Let it marinate for 10 minutes.
Toast the bread, let it cool down, and reserve. Once it's cool coat it with soft diced avocado pulp.
Place the marinated tuna over avocado pulp and serve.
Chef's tip: You can decorate your open tuna sandwich with sesame seeds or maybe some chia seed to make it healthier.
Beef tenderloin or chicken breast and artichoke with hummus sandwich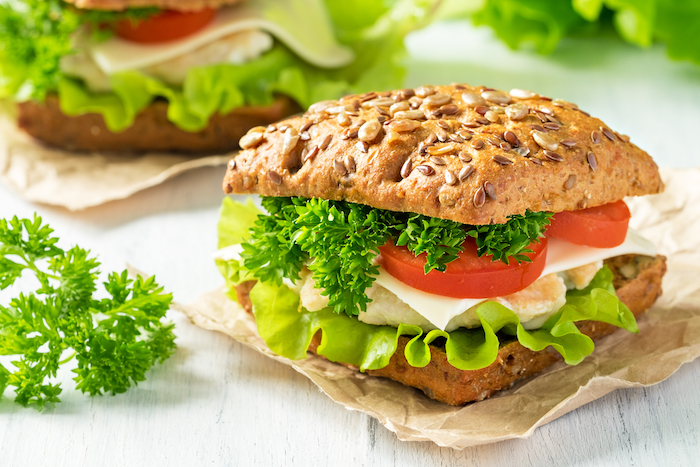 Whether with beef or chicken, this delicious sandwich combines perfectly with that intense flavor of artichokes and hummus, you will surely have all the ingredients in your pantry. Find the full recipe here!
Without a doubt, whatever your favorite sandwich is, it will always be a great option for any time of the day, to enjoy it with friends or family, on a rainy afternoon, or on a sunny day, it always complements perfectly!
Which one will you prepare today?