International Pasta Day!
The origin of pasta has been debated. Some theories pointing that it was thanks to explorer Marco Polo that this dish was introduced to Italy from China in the 13th century, but the truth according to experts in the field is that in the 12th century the Muslim geographer al-Idrisi wrote about pasta being produced in Sicily.
Many historians refer to the dish becoming famous in Italy due to the prolific Mediterranean trade in the Middle Ages. References to pasta dishes were increasingly quoted in many texts, starting from the 13th century.
On a visit to Naples in 1787, the German poet Goethe was able to attest to the popularity of pasta.
"You can buy it everywhere and in all stores for very little money. As a general rule, it is simply cooked in water and seasoned with grated cheese. "The pasta seemed to fascinate the German writer." The macaroni that we were served was exquisite … The pasta seemed incomparable for its whiteness and finesse. "
Pasta is even mentioned by Boccaccio in his collection of short stories The Decameron (14th century), in which he describes a mountain of Parmesan cheese with macaroni and ravioli destined for greedy gluttons.
Pasta was considered a dish for the wealthy, featured in aristocratic feasts created by chefs during the Renaissance, and while a number of things have changed over time, pasta is a nutritionally complete dish.
Interesting fact: there are records about it was not until 1844 that the first recipe for spaghetti in tomato sauce was prepared, as this ingredient was considered too exotic by Italians.
To celebrate this day that does not go unnoticed by pasta lovers, we share four recipes from some of our beloved chefs for you to prepare at home. Enjoy them!
Our chefs' suggestion to cook pasta: Boil enough salted water in a large pot. Once the water has come to a boil, add the pasta. Cook for about 10-12 minutes, depending on the quality of the pasta and quantity in the water. When pasta is al dente (cooked but still a little firm), remove the pot from the heat. Drain.
Pasta with garlic soy tomato sauce
Chef Philippe Piel – Executive Chef at Grand Velas Los Cabos
Servings: 4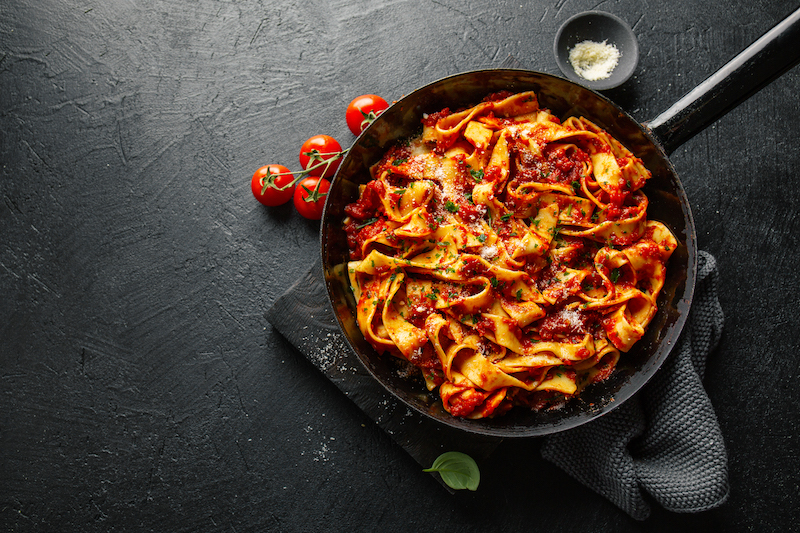 Ingredients:
1 tbsp. extra virgin olive oil
1/2 pc. yellow onion medium, finely chopped (about 2 tbsp)
2 pcs. cloves garlic, minced (about 2 teaspoons)
12 oz Italian sweet sausage (2 x 7 to 8 inch long), can be spicy also
1 can tomatoes (sauce or purée a can of whole tomatoes)
1 tbsp. soy sauce
1 lb pasta
Salt and pepper to taste
Note. You can use freshly grated Parmesan cheese on top.
Instructions:
Heat a tablespoon of extra virgin olive oil in a large skillet on medium heat. Add the chopped onion and cook until translucent, for about 5 minutes. Add the minced garlic and cook a minute more.
On a hot pan, add the tomato sauce and simmer for a few minutes. Add any protein or vegetables that you like, as well as herbs (fresh or dry).
Serve the the tomato sauce over the pasta, season to taste and add basil or fresh herbs.
Place it in a serving bowl and enjoy with Parmesan on the top!
NOTE: You can be as creative as you wish with this pasta and modify along to add on any protein or vegetables you like (sausage, chicken breast, Spanish chorizo, shrimp, zucchini, add other spices like olives, capers, basil, spinach).
Sardine Spaghetti a la puttanesca
Chef Guillermo Carmona – Executive Chef at Velas Vallarta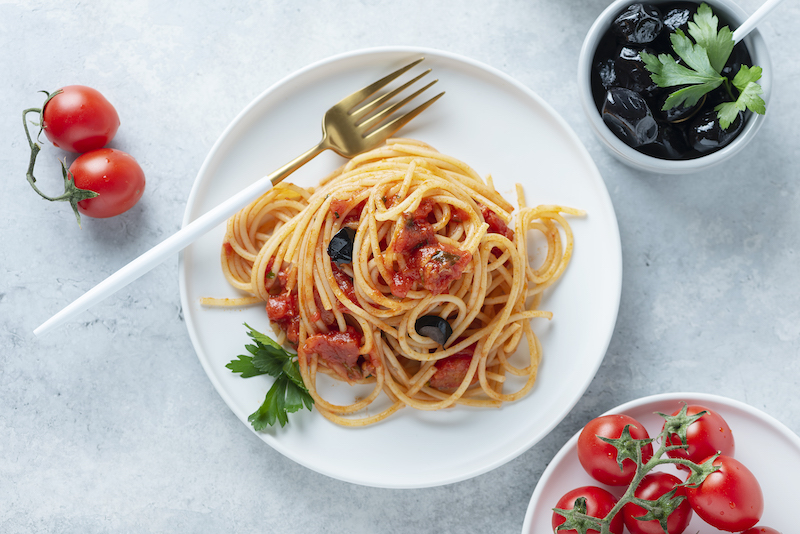 Servings: 4
Ingredients:
12 oz spaghetti
1 tbsp. olive oil or butter
2 pc. garlic cloves, minced
1 oz chopped onions
1/4 tsp. chilli flakes, optional
14 oz chopped tomatoes
1 tin sardines in olive oil
2 tbsp. pitted black olives, sliced
1 tbsp. capers
4 servings chopped spinach
5 oz chicken broth
2 pcs. bay leaves
Chili flakes (optional)
Instructions:
Heat the oil in a large frying pan and add the garlic, chopped onions and chilli flakes (optional), bay leaves and the chicken broth. Cook for a few minutes, letting the broth reduce.
Ahe chopped tomatoes.
Then add the sardines, olives, capers and spinach and cook for another 4-5 mins, until sauce is cooked and sardines are broken up in the sauce..
Serve the sauce over the pasta, then serve with the fresh herbs.
Buen provecho!