Places and mystical flavors of Riviera Maya
The world holds an abundance of natural treasures waiting to be uncovered, and as we explore some of its jewels, these experiences become timeless memories. Riviera Maya is no different, as it indulges us in its natural richness, mystic jungle, azure beaches, exquisite cuisine, and historical archeology, with endless activities to connect us to its ancient mysteries.
If you're looking to dive into some of the wonders of Riviera Maya, then cenotes are where you should start. These natural pits or sinkholes that resulted from the collapse of limestone bedrock thousands of years ago hold an unparalleled charm and history within the Mayan civilization. There is an estimate of approximately 2,500 cenotes within the Yucatan Peninsula, so whether you visit Cancun, the Riviera Maya, or Yucatan, the opportunities to stumble upon one of these water formations are highly likely.
Have you ever had a picnic 60 feet underground?
It sounds a bit extreme, however, this is an adventure that summons tranquility enclosed in nature's charm, one that you should experience on your next visit to Grand Velas Riviera Maya. Chukum is named after the surrounding chukum trees indigenous to the region is one of the recently-discovered cenotes in Yucatan. The journey of this magnificent cenote begins with a private tour through nearly 131 feet of cavern trail with ancient stories embedded in each of its corners. After learning more about this cenote surrounded by stalactites and stalagmites, you'll reach the tranquil crystal clear waters. Here you can enjoy a three-course gourmet menu prepared by chef Maître Cuisinier de France and Culinary Director of Velas Resorts, Michel Mustière. This gastronomic experience is perfectly paired with a collection of cheeses and charcuterie products, duck terrine, and handmade chocolate truffles.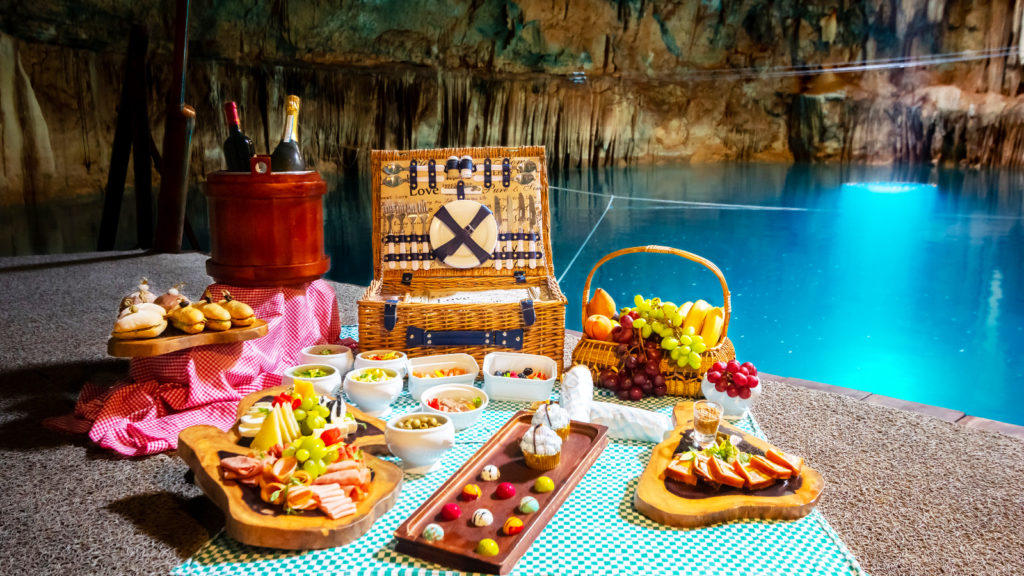 The sensations are indescribable!
If the sight of such a wondrous piece of history wasn't enough, a tasting of distillates originating from Mexico will surely be the highlight of this voyage. While the most distinguished beverages of Mexico are tequila and mezcal, there are other less-known such as bacanora, tuxca and pox, that carry a rich flavor. During this trip, you'll obtain first-hand secrets of how to recreate these spirits in modern cocktails.
Undoubtedly, one most indulging part of this tour is the tasting of drinks prepared with sotol, another distillate. Its rich flavor with smoky scents that emerge from its production process is decorated by the mystique of indigenous legends that denote how the first drink awakens the senses and the spirit.