The culinary experience at Grand Velas Boutique Los Cabos
With the upcoming opening of the new Grand Velas Boutique Los Cabos hotel, the concept of luxury will also be extended to each of its services. In this article, we will delve into the exclusive culinary experience that it will offer to its guests.
Gastronomic Oasis
Loto
Renowned chef Sidney Schutte, holder of 2 Michelin stars, was tasked with developing a menu that would blend Japanese cuisine's essence with Mexican gastronomy flavors. The result? A selection of dishes that will take you on an incredible culinary journey at the gourmet restaurant Loto, which also features the Japanese robata grill technique. Each recipe highlights the flavor of its fresh ingredients, from cuts of meat, seafood, and fish to salads and desserts.
The personalized attention of Grand Velas Boutique Los Cabos extends to gastronomy. Each recipe can be adapted to your tastes and/or needs; whether there's an ingredient you prefer to avoid or your diet includes certain restrictions, there are no limitations.
Not to mention the composition of the dishes, conceived as works of art. Designed to captivate at first sight, awakening the visual delight of diners, the presentation is, therefore, spectacular, and the explosion of flavors simply unparalleled.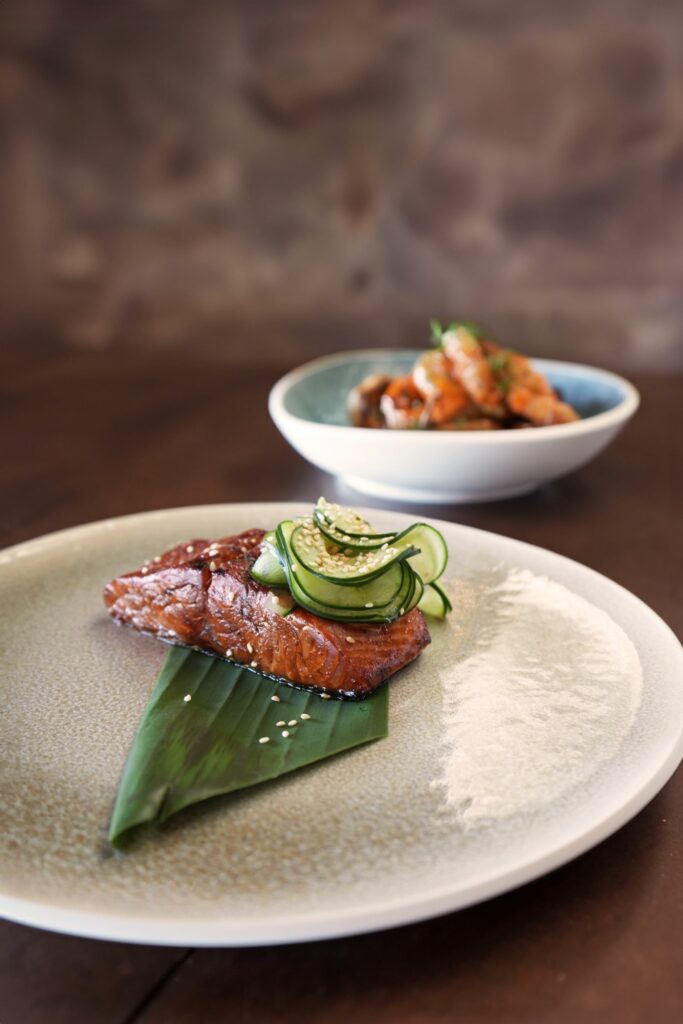 Immerse yourself in this journey full of flavors, creativity, and innovation, together with a sophisticated atmosphere that combines a minimalist style with the innate colors of the destination.
Del Mar
On the other hand, Del Mar is the place to go if you want to enjoy a privileged view of the sea and a wide variety of gastronomic options. With à la carte or buffet options, this restaurant offers delicious dishes from dawn to dusk.
During the day, pamper your palate with seafood and grilled meats, salads, desserts, and refreshing drinks; as night falls, transport yourself to different places around the world through exceptional and generous buffets complemented by delicious artisanal bread, a wide selection of international dishes, and even a station to customize your quesadillas or eggs, prepared on the spot. Whether you seek a casual afternoon or a romantic evening, Del Mar has the versatility to accommodate your needs, always with impeccable service.
And, to ensure that during your stay, you dedicate yourself solely to relaxation, suite service is available 24 hours a day, allowing you to indulge in the hotel's culinary delights without leaving the comfort of your suite.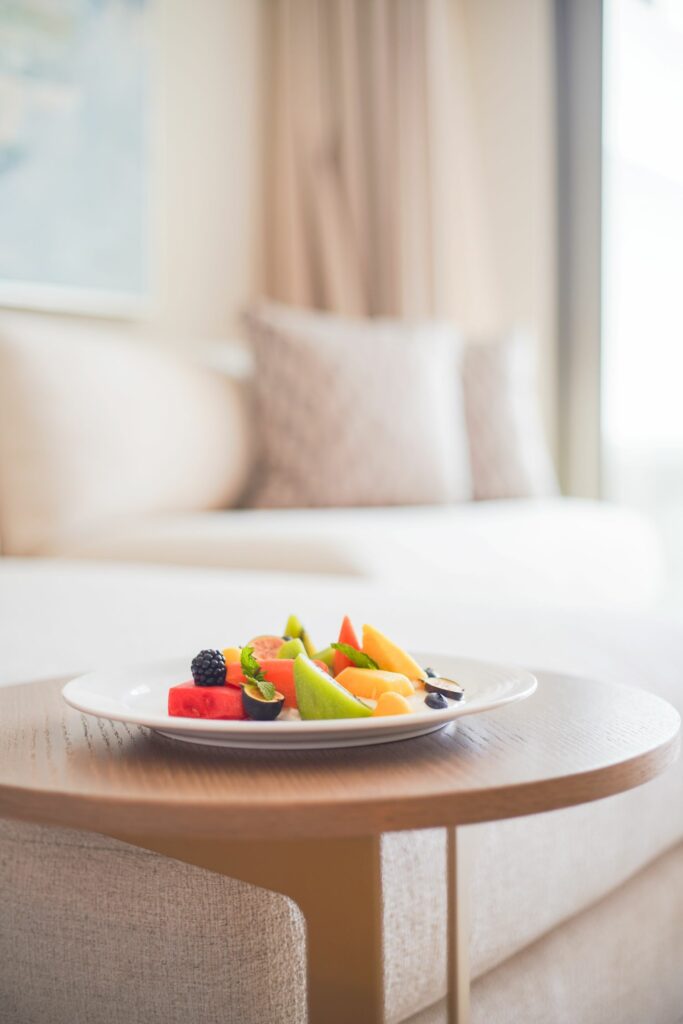 For relaxation
From the moment guests arrive at Grand Velas Boutique Los Cabos, they will have access to 51 Bar as a prelude to a memorable stay. This charming establishment offers a welcome to remember. Located in the hotel lobby, you will find an extensive variety of cocktails and spirits to enjoy from the very first moment.
Would you like to start the day with a delicious coffee or tea? There is always a barista available to assist you. You can also enjoy freshly baked bread and a variety of grab-and-go snacks for a light breakfast.
Those who prefer to admire the serenity of the ocean with a drink in hand will find Roca Bar the ideal place to do so. The peculiar name of this bar pays homage to the popular Arch of Los Cabos, the most representative rock formation in the destination. In addition, it boasts one of the best views of the Sea of Cortez.
Roca Bar offers a comfortable atmosphere, refreshing drinks, and exquisite ceviches and snacks prepared on the spot. That's not all! In the evenings, the bar's terrace becomes ideal for a romantic evening or a pleasant conversation with friends and/or family; whatever the occasion, the scene will remain in memory.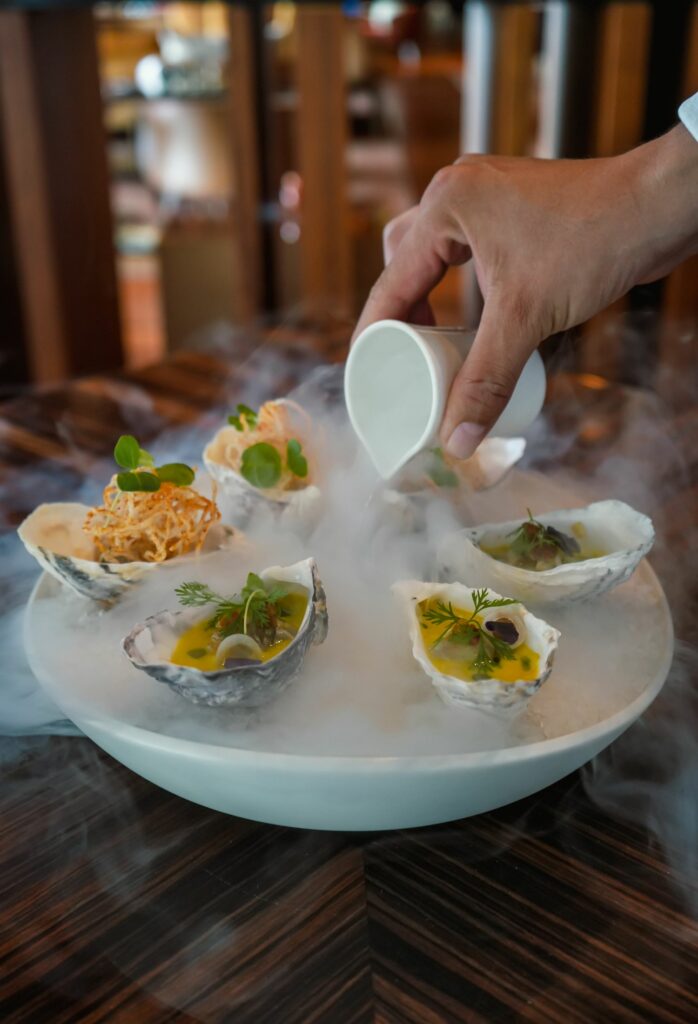 Finally, the Agave tasting room —a paradise for lovers of spirits—will offer afternoon tastings of premium tequilas and mezcals. Whether smooth-aged, characterful reposados or artisanal mezcals, each spirit reflects the passion of the country's best master distillers. Likewise, a team of expert mixologists is there to provide comprehensive pairing guidance and complement the attendees' experience.
Discover the diversity of cocktails ranging from classic flavors to unconventional creations. This experience caters to knowledgeable travelers and those whose curiosity leads them in search of new discoveries.
Extraordinary events
We also add enriching gastronomic activities, such as:
Wine and Mexican cheese pairing in weekly sessions where you will discover fascinating combinations of wines from different states paired with artisanal cheeses.
Daily wellness options to start the day with renewed energy with vitamin shots or cold-pressed juices at the Mood Shot bar.
Exclusive tasting of a collection of 12 flavors of Mexican artisanal chocolates.
Daily tequila and mezcal tastings in the Agave tasting room, including prominent brands such as Casamigos, 1800, Don Julio 70, Montelobos, 400 Conejos, and more.
The culinary experience that Grand Velas Boutique Los Cabos offers is the perfect alternative for travelers who enjoy good food and are constantly seeking to explore new and unique flavors.