Mexican gastronomy: 32 states, 32 dishes
Mexico is art, color and style. It is the lushest green jungle and the driest of deserts. Its miles of coastlines edge crystalline waters, stretching out to the horizon in shades of azure and turquoise.
And, it is flavor. From the rich bounty of the earth, Mexicans around the country prepare elaborate dishes using ancestral ingredients. The country's cuisine is a reflection of the cultural riches and traditions that combine to form the essence of its people.
Perhaps the best way to explore a culture is through the aromas and spices of its dishes, a way to honor the complexity of flavors and techniques that led Mexican cuisine to become part of the intangible heritage of humanity; recognized by UNESCO since November 2010.
The origin of the gastronomy of Mexico dates back to the pre-Hispanic period. At this time dishes were created revolving around three main ingredients: corn, beans and chili. The usual complements were aromatic herbs, meats from small animals such as armadillos, chocolate, poultry and fish, among others.
The mixture of indigenous and Spanish cultures gave a different direction to ancestral recipes, providing ingredients and flavors unknown in the region. Among the European contributions are: animal fats, wheat, flour, beef and chicken, as well as dairy products.
Please join us on this alphabetical tour through the 32 states of Mexico and their most representative dish.
Aguascalientes
– San Marcos chicken
Named after the San Marcos Fair, one of the oldest fairs in the country that dates back to 1828, this dish's preparation is based on fruits found in the region, which infuse the chicken meat with delicious, sweet and sour flavors.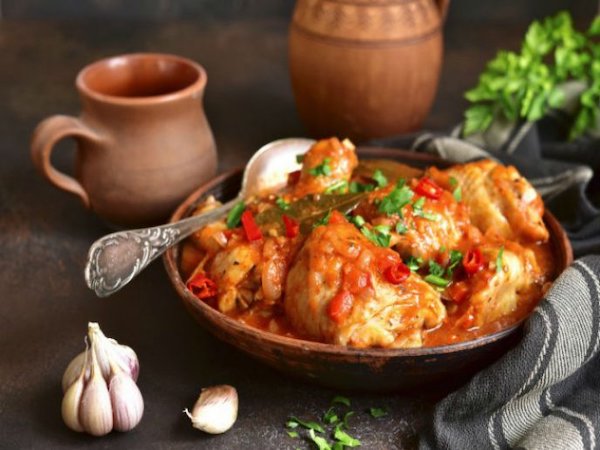 Baja California
– Chile con carne
Chile con carne, although it is well known as Chilli con Carne in states like Texas, has its origin in the city of Ensenada. Its main ingredients are meat, chili peppers and beans.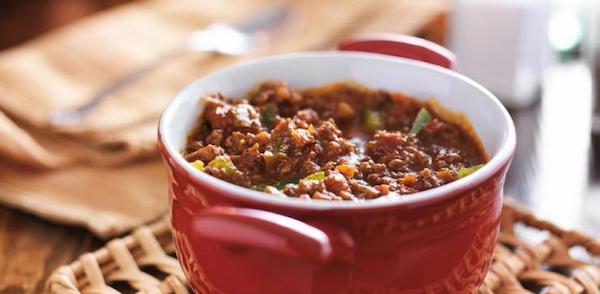 Baja California Sur
– Ceviche
Taking advantage of the coastline, Baja California Sur shows off its richness in fish and seafood with ceviche, the most popular dish in the state which is made with shrimp and fish.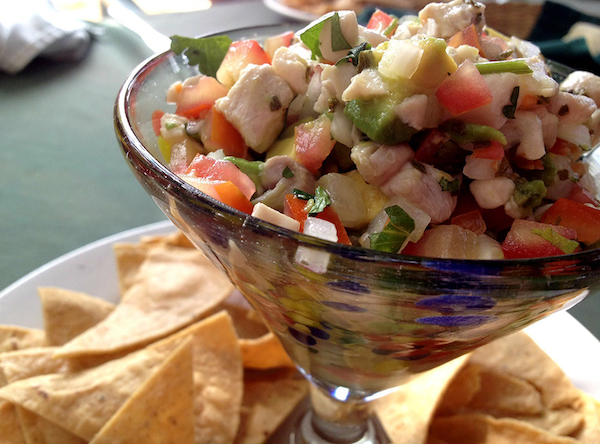 Campeche
– Cazón bread
This hearty delicacy is made with the meat of dogfish —a shark species—, habanero pepper sauce and a base of tortillas.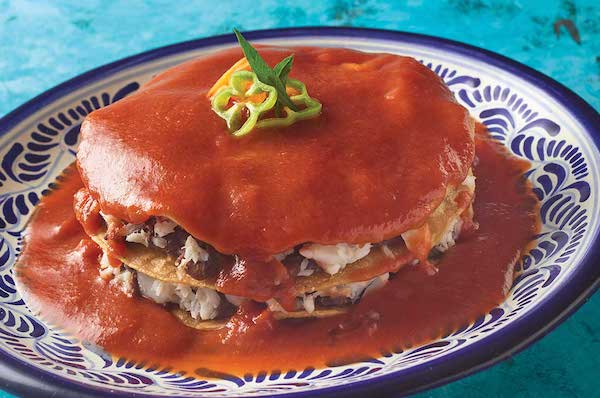 Coahuila
– Pulque bread
Pulque and wheat, two important ingredients in Mexican and Spanish cultures, join to create this iconic Coahuilan sweet bread.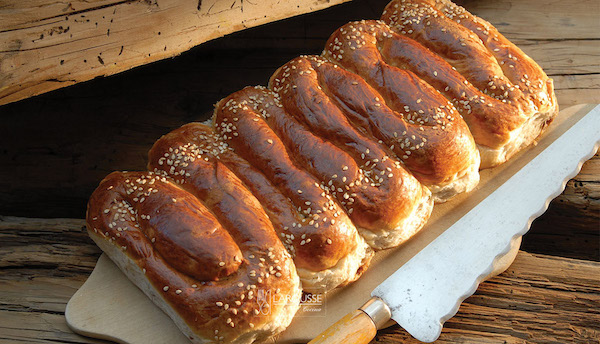 Colima
– Sopitos
Sopitos are tortillas covered in mincemeat, served with tomato sauce. They are garnished with onion, lettuce and garlic.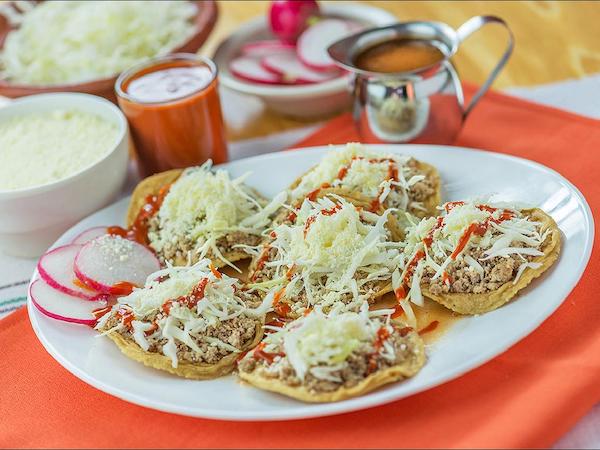 Chiapas
– Chipilín tamales
Chipilín, a Central American plant high in iron, calcium and beta-carotene, is a very important ingredient for Chiapanecan cuisine, and the tamales made from chipilín are a delight.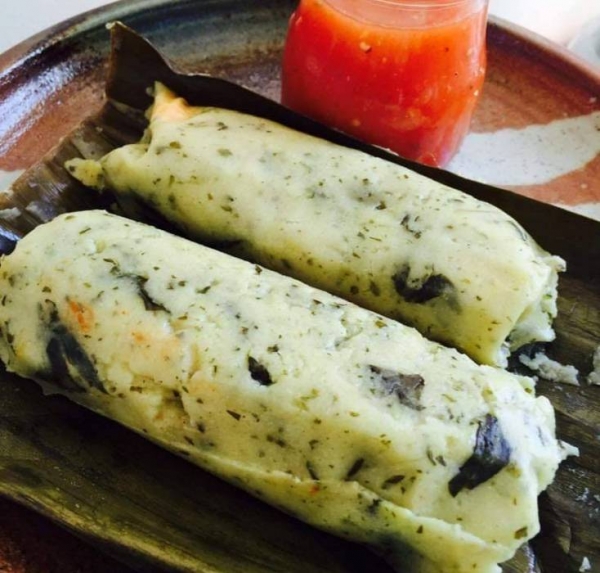 Chihuahua
– Carne asada
The quality of the cattle from the north gives an extraordinary flavor to the meat, particularly that of Chihuahua. Grilled, sometimes marinated with tequila, it is accompanied by onions, sausages, potatoes and hot sauce.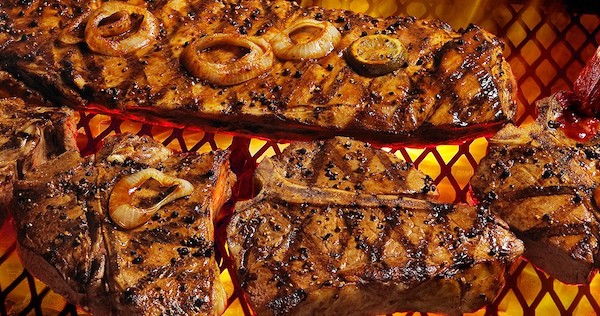 Mexico City
– Guajolotas
Guajolotas can be found in almost every corner of the capital of the country. They are composed of a green, red or mole tamale with chicken over a bread roll called bolillo or telera. Atole —a hot masa-based beverage— fits perfectly with a guajolota.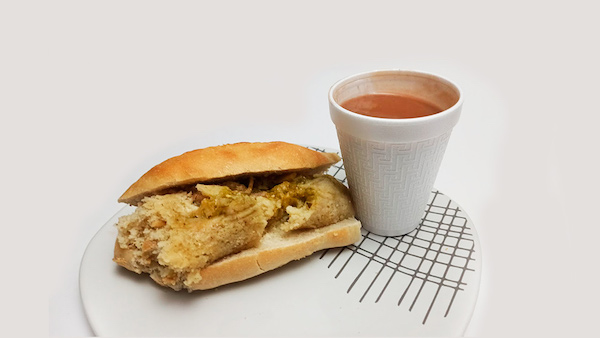 Durango
– Caldillo Duranguense
This delicious broth or caldillo is made with dried meat, garlic, onion, poblano pepper, red pepper and spices.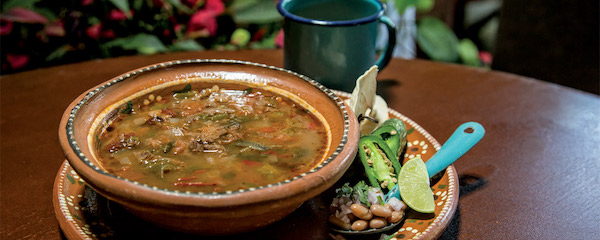 Guanajuato
– Enchiladas mineras
The Guanajuato version of this dish, present in many states of the country, is prepared with fried tortillas filled with cheese. Garnish includes carrots, potatoes and a rich guajillo chili sauce.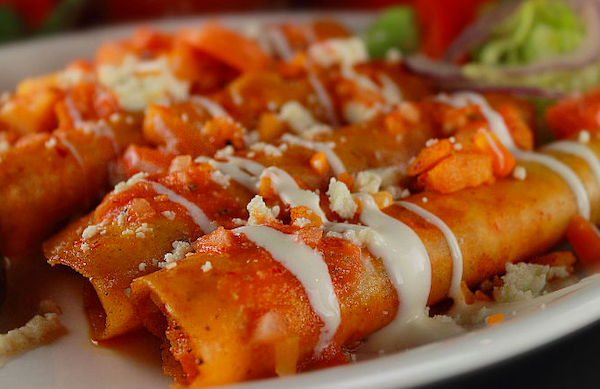 Guerrero
– Pozole
This identity dish from the state of Guerrero is prepared with corn, meat and chili peppers, in three presentations: green, red or white.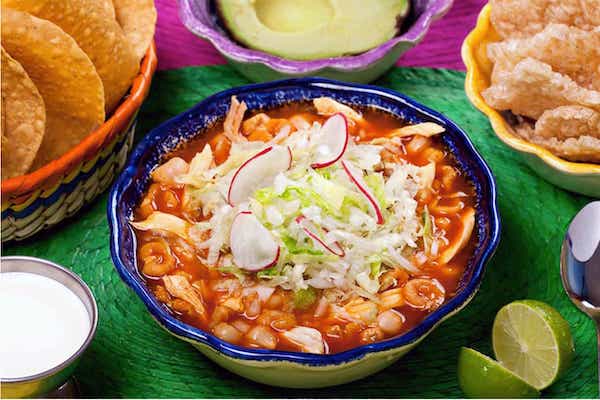 Hidalgo
– Barbacoa
Another dish present in many states, barbacoa, or barbecue, is made of lamb meat cooked in an underground oven. But the flavor of the Hidalgo version stands out. Maguey leaves are previously arranged in the oven before cooking, infusing the meat with exquisite aromas.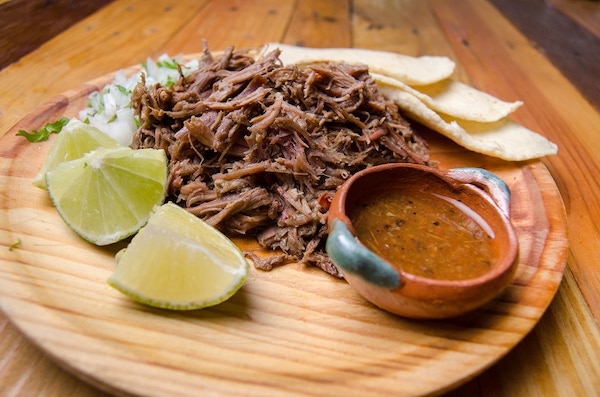 Jalisco
– Birria
Juicy and full of flavor, birria is one of Jalisco's flagship dishes. The meat is bathed in a sauce of chili peppers and spices, and cooked wrapped in maguey leaves.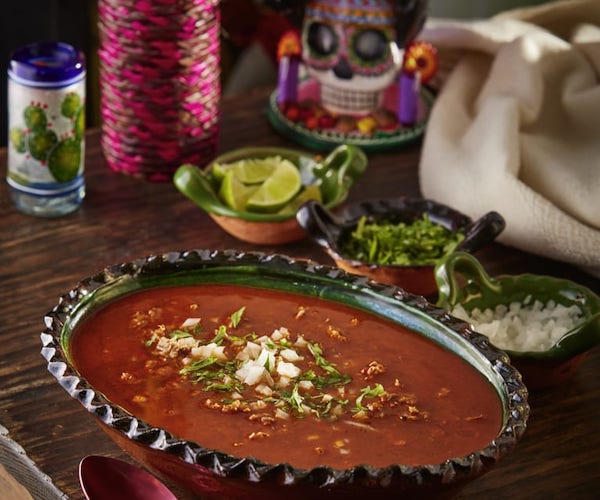 Estado de Mexico
– Green chorizo
Flagship dish of the state capital, Toluca, Green chorizo is stuffed with the pork previously prepared with serrano peppers, coriander, oregano, green tomato, spinach, pumpkin seeds and bay leaf.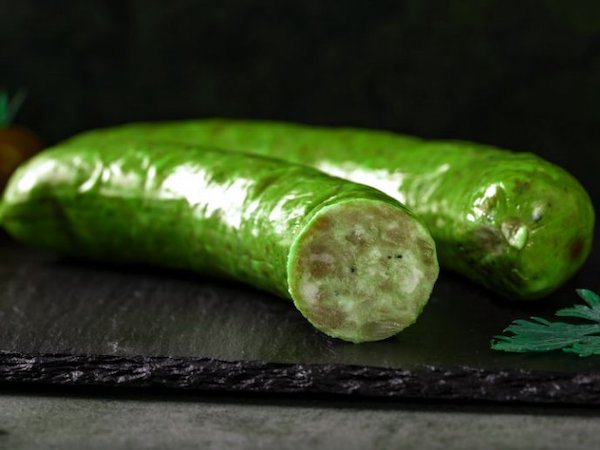 Michoacan
– Carnitas
Pork meat or carnitas, is one of the most typical dishes of this beautiful state. They are served with tortillas and salsa. The flavor and consistency —crunchy on the outside and tender on the inside— is made possible by cooking the meat in copper pots that are handcrafted in Santa Clara del Cobre.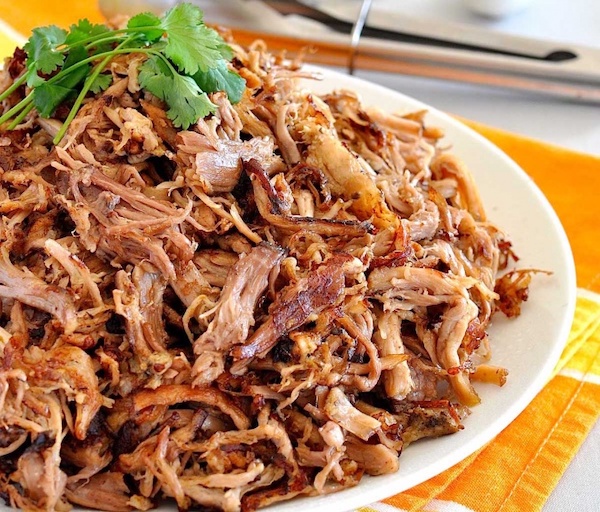 Morelos
– Cecina
The best dried meat, cecina, in the state comes from Yecapixtla, where they salt the meat to dry it, and spread it with lard. It is delicious in tacos, quesadillas or on chilaquiles.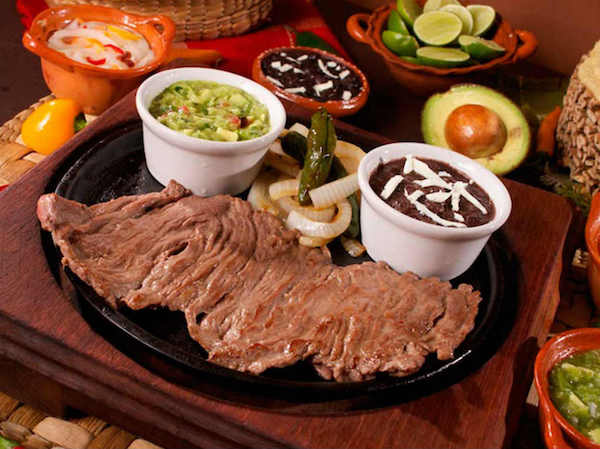 Nayarit
– Pescado zarandeado
The zarandeado fish —originally from the island of Mexcaltitán— is prepared with a mixture of chili peppers and adobos and cooked on a firewood grill. It can be accompanied with pico de gallo sauce.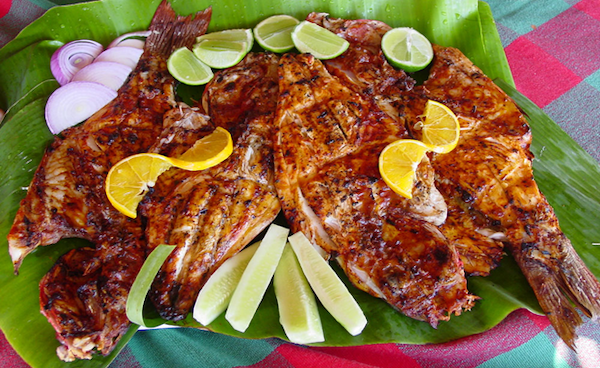 Nuevo Leon
– Cabrito
Cabrito al pastor is one of the most popular dishes in the northern state of Nuevo Leon. The goat meat is infused with a mix of chilies and spices or "pastor" style and then slowly grilled to get a tender, full of flavor meat.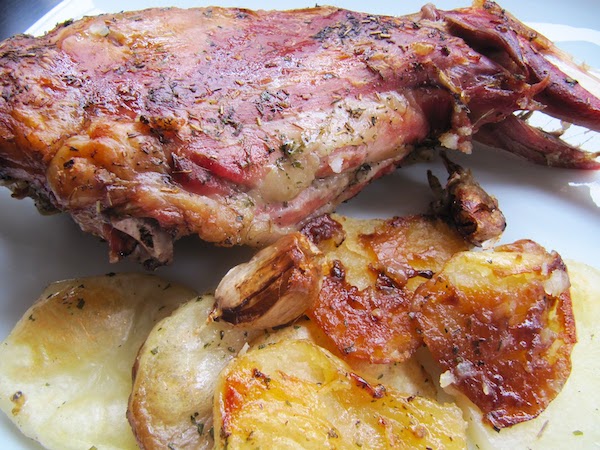 Oaxaca
– Tlayudas
Oaxaca is one of the richest states in terms of gastronomy due to its wide territorial and cultural extension. But it is perhaps the tlayuda the most representative dish. It consists of a very thin, pizza-sized corn tortilla, which serves as the base for various ingredients, such as beans, dried meat and avocado, among others.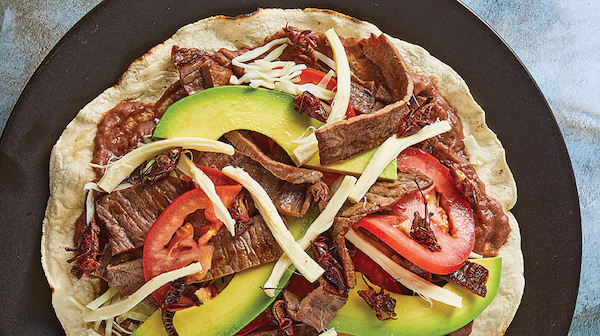 Puebla
– Mole poblano
The dish that adorns many of the great Mexican events, mole is an icon of the cuisine of this country. The elaborate preparation begins with the grinding of various chilies such as ancho, mulato, pasilla and chipotle, and other ingredients such as cloves, raisins, cinnamon, onion, parsley, tomato garlic, chocolate, among others. The result is hydrated with chicken broth and tops any kind of meat, and garnished with sesame seeds.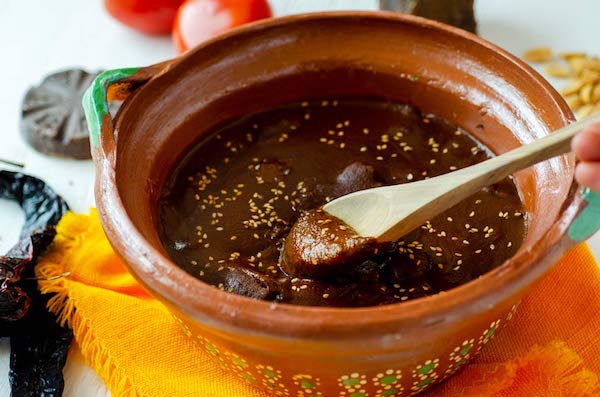 Queretaro
– Enchiladas queretanas
The Queretaro variant of the enchiladas is a delight. Bathed in guajillo chili sauce, this version can be served with carrots, potatoes, panela cheese and chicken.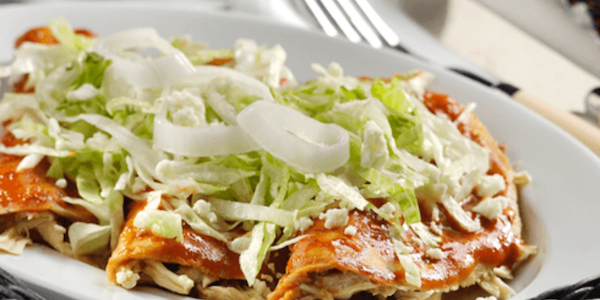 Quintana Roo
– Salbutes
Known as "salbuts" this traditional dish of the Yucatan peninsula gastronomy consists of a corn tortilla fried in oil or lard, so that it is a little puffed and soft, served with lettuce, tomato in julienne, red onion, shredded turkey or chicken meat and avocado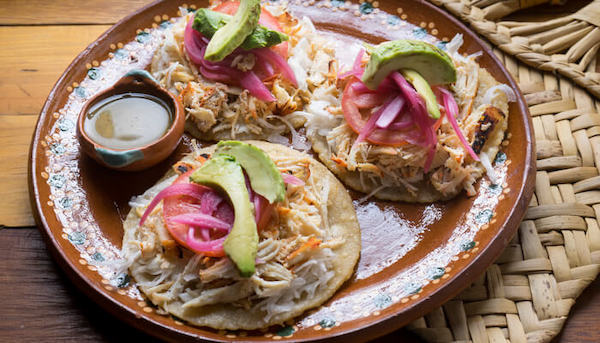 San Luis Potosi
– Enchiladas Potosinas
The San Luis' enchiladas are famous for being one of the many recipes that happen to come out of a culinary mistake. The story tells that a woman took her maize grains to the mill, where a batch of guajillo chili had been grounded and mistakenly left unclean, the result was a red masa. This masa is stuffed with cheese, and then fried and served with different garnishes such as pork feet and vegetables, depending on the region.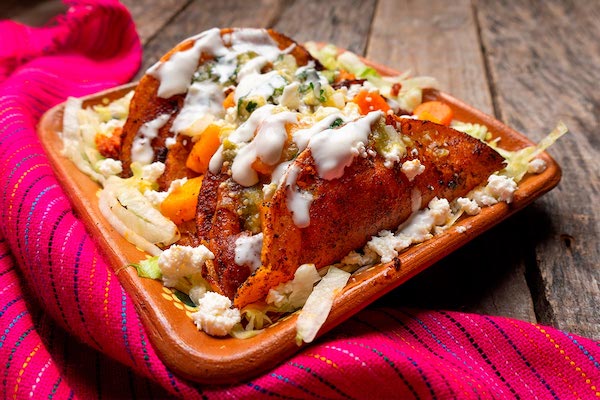 Sinaloa
– Aguachile
It is not an easy task to choose which dish best represents the state of Sinaloa, but perhaps one of the flavors that most distinguishes this coastal state is anything made of seafood. And this is why the Aguachile ranks first with its shrimp seasoned with chiltepin or piquín peppers, served in a marinade of lemon, cucumber, salt, red onion and avocado.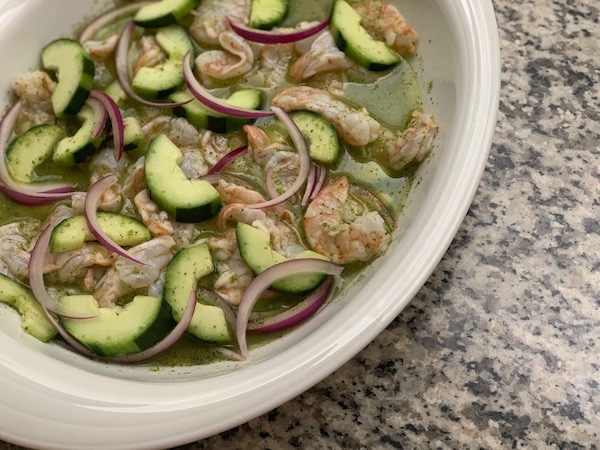 Sonora
– Chimichangas
They are made with very thin, pizza-sized flour tortillas that are stuffed with shredded beef seasoned with salt and pepper and cooked potatoes or simply stuffed with beans. The tortilla is folded into a 'burrito' shape, fried in oil and decorated with mayonnaise, cabbage or lettuce, chiltepin sauce, lemon and cream.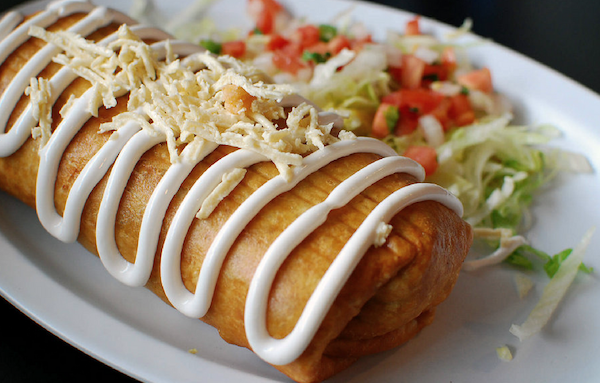 Tabasco
– Roasted pejelagarto
This species of fish, pejelagarto, a rare mix of fish and crocodile, is very popular in the state of Tabasco. This delicacy is prepared in different ways, being one of the most common over a grill, and served with fried plantains.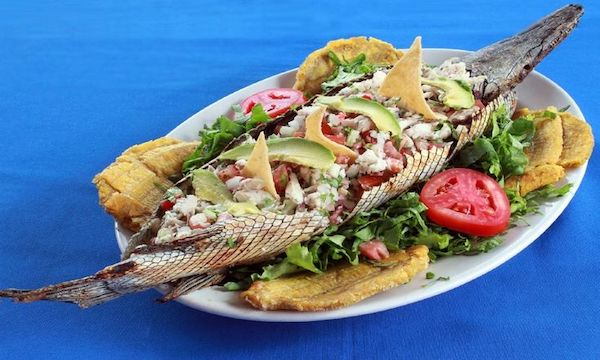 Tamaulipas
– Carne tampiqueña
Tampiqueña meat is one of the dishes that distinguishes the state of Tamaulipas: roast beef served with entomatadas or enchiladas, beans, corn, guacamole, cheese and, of course, a spicy sauce.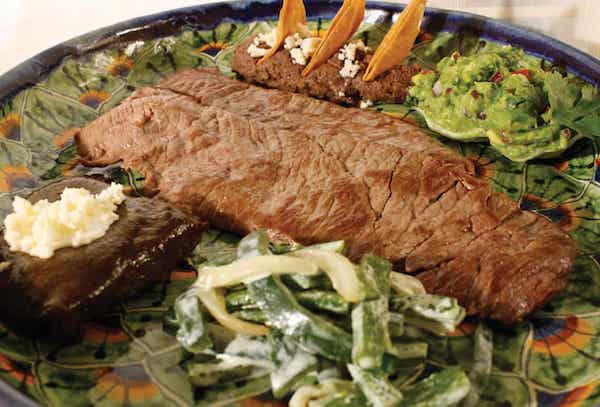 Tlaxcala
– Tacos de canasta
Basket tacos are known in different states of the Republic, but they are originally from Tlaxcala, in the municipality of San Vicente. These tacos are distributed in a basket, and can be stuffed with beans, potato with chorizo, pork rinds in green sauce, adobo and green mole.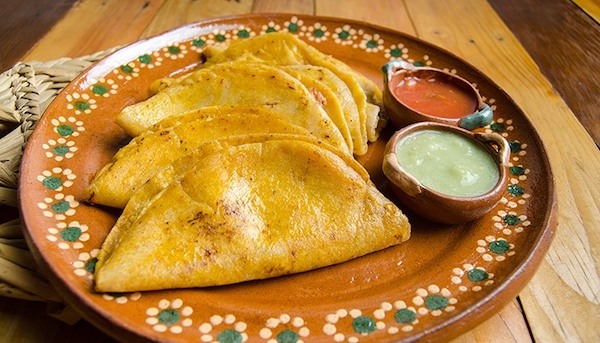 Veracruz
– Veracruz style fish
The port city of Veracruz has an extensive gastronomy, but it is maybe the Veracruz-style fish the best known dish. The secret of the recipe is in its sauce of chile güero peppers, garlic, onion, tomato, olives, capers and oregano. Once sautéed on a pan, the fish fillet is bathed.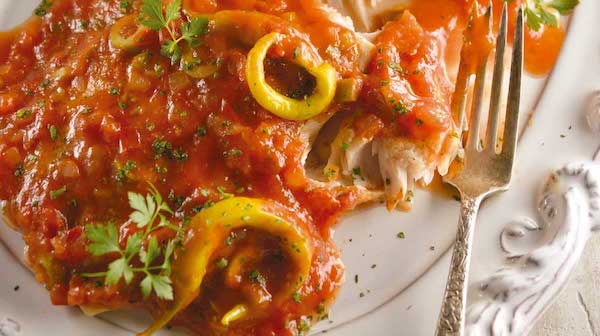 Yucatan
– Cochinita pibil
Achiote occupies a stellar place in Yucatecan cuisine, and one of the dishes that exalts the flavor of this seed is the cochinita pibil, made from pork meat in achiote marinade and red onion prepared with sour orange and habanero peppers.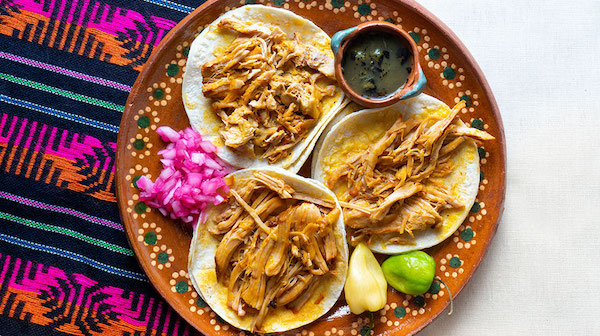 Zacatecas
– Asado de boda (Wedding stew)
This typical dish, which is usually used at wedding banquets, is made up of pork loin bathed in a marinade of mixed chiles –ancho, pasilla and guajillo–, with orange, brown sugar and butter.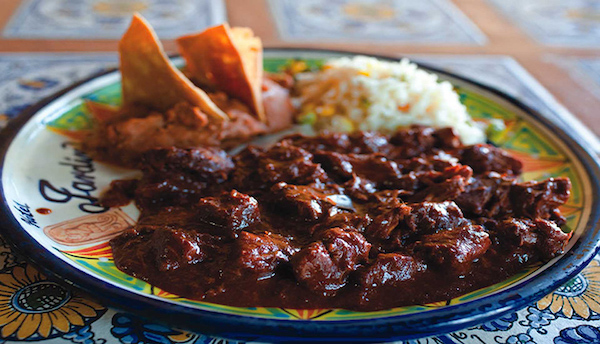 Hard to choose just one, isn't it?
Hope you enjoyed this selection. Please let us know in the comments what is your favorite Mexican platillo.