Relaxation itinerary in Mexico
With more than seven hundred square miles of land expansion, Mexico flaunts some of the most prominent sceneries to immerse in adventure and adrenaline, as well as the ideal sanctuaries for romance and relaxation.
If your idea of travel steers more towards the last selection, then you'll love these satisfying activities in each of the destinations where Velas Resorts resides, prepared to give you a great headstart in creating your itinerary.
Puerto Vallarta – Riviera Nayarit
Wellnessing Getaway
For three consecutive years, Wellnessing Getaway has gathered some of the most influential personalities in the world of wellness all in one destination. They will lead guests on a journey of relaxation and well-being through meditation workshops, healthy gastronomy, healing rituals, and various conferences.
What to look forward to? During this Wellnesing experience, guests can partake in yoga sessions at sunrise, wholesome breakfasts, practical workshops, and guidance from health specialists. The dates scheduled for this year's Wellnessing event are from May 1st to 3rd, 2020.
Botanical + meditation
The spaces which are hidden inside nature offer the ideal ambiances for practicing meditation. The labyrinths of the 4 elements nestled inside the botanical garden of the Casa Velas boutique hotel outline a path of introspection to reconnect guests with its elements and its wisdom
What to look forward to? An aura of tranquility inside Casa Velas which offers exemplary sceneries for meditation, enveloped by nature's harmony as it is a hotel for adults only. The experience is complemented by a balanced breakfast and natural juices.
Romantic dinner by the sea
There's no better way to seal a relaxing day than with a dinner by the beach, overlooking the dreamy sunsets of Puerto Vallarta-Riviera Nayarit paired with exquisite gastronomy by renowned chefs.
What to look forward to? Culinary creations that will relish your palate, a private assemblage on the beach, personalized service, and the charm of the Pacific to act as the perfect frame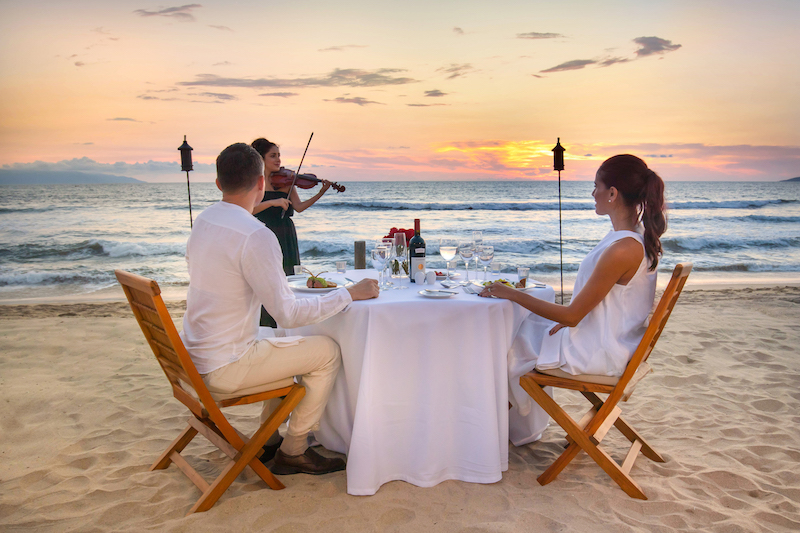 Where to stay in Puerto Vallarta-Riviera Nayarit?
Casa Velas | Grand Velas Riviera Nayarit | Velas Vallarta
Riviera Maya
A water dedicated ceremony
A wellness epitome convenes at SE Spa of Grand Velas Riviera Maya with its seven-step Water Ceremony at the forefront and in charge of loosening each muscle of the body. Relish your senses with the sounds of waterfalls and herbal teas to hydrate after a journey through the steam room with eucalyptus aromatherapy, wood and spice-scented sauna, sauna, clay room, ice room, polar pool, jacuzzi and sensation showers. Your body will then be ready to receive all the benefits of the Spa treatment of your choice.
What to look forward to? SE Spa therapists use their expertise when employing each massage and treatment from our service collection, which highlights healing ancestral rituals and energy harmonization. Share this special moment of wellness with that special someone by arranging a double cabin.
A cultural day
Grand Velas depicts the legacy of the Mayan culture most fascinatingly through its colorful theme nights that permeate the scene. Ancient traditions will give way to a fire show and dance that will transport you to the pre-Hispanic era while enjoying the privileged view of the Mexican Caribbean.
What to look forward to? An immersive encounter with exceptional dancers and acrobats draped in impressive Mayan costumes.
Where to stay in Riviera Maya?
Grand Velas Riviera Maya
Los Cabos
Wellnessing Getaway
The first edition of Wellnessing Getaway in Los Cabos is bound to be one of the most sought after events for wellness enthusiasts. This experience will take place from February 19th to the 21st, 2020, and will share the presence of fitness trainer and nutritionist; Rachael DeVaux, researcher of healing properties within sound vibrations; Roberto Gopar, and international yoga instructor; Danica Johnson.
What to look forward to? You will engage in talks and workshops centered on implementing alternatives for a healthy life, as well as healing sessions of ancestral sounds, wellness gastronomy, meditations, and exercise programs, all part of this three-day wellness retreat.
You might also enjoy reading: "3 reasons why a Wellnessing Getaway is a must."
Cinema under the stars
Make Los Cabos beach your private movie theater. A Balinese bed serves as an armchair to invite you to enjoy the screening of your favorite movie accompanied by canapés, petit fours, and select wines.
What to look forward to? Ultra personalized service, exquisite cuisine, sunsets that cover the sky in multiple colors, and romantic details if you decide to share this moment with that someone special.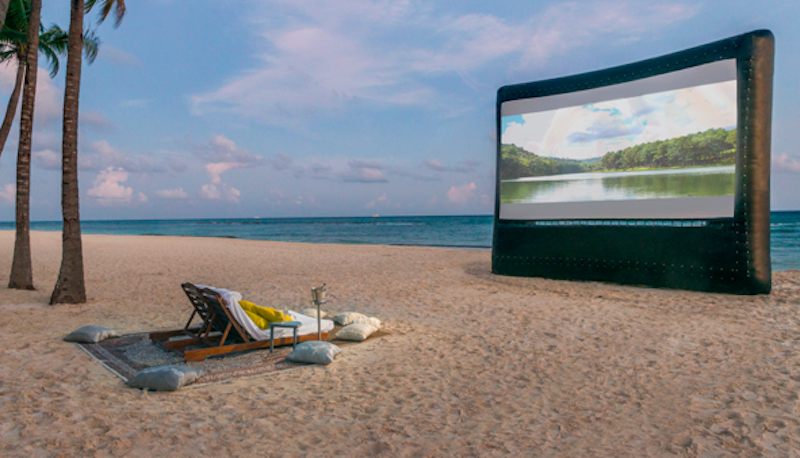 Where to stay in Los Cabos?
Grand Velas Los Cabos | Mar del Cabo