8 places you should visit in Riviera Maya
To celebrate the reopening of some Mexican beaches to welcome visitors once more, we continue with our series about the places you must visit on each of Velas Resorts destinations. Previously, we shared the repertoire of Puerto Vallarta and Riviera Nayarit, now is the turn of Riviera Maya, a true paradise according to many.
World-renowned by the natural beauty found, this destination —that embraces the coastline from Puerto Morelos to Punta Allen— is probably the most visited in Mexico. It may be the turquoise-colored seas, archaeological mysticism found in the ruins, the exquisite biodiversity found in natural reserves, or all the hidden treasures in its endless jungle, the truth is that this place fascinates travelers around the globe.
As you may already know, the array of places and activities to do here is extremely vast, so consider the following list when you plan your travel itinerary.
Chichén Itza
The worldwide popularity of this archaeological site —listed among the 7 Wonders of The Modern World— makes it the first stop of many travelers. Impressive from every perspective you look at it, we are pretty sure that Kukulkan Castle, the Mayan ball game courts, the observatory "El Caracol" and its sacred cenote will amaze you.
Playa del Carmen
The proximity to different tourist attractions of Riviera Maya, extensive restaurants, bars, and resorts offer, including Grand Velas Rivera Maya, and the 5th avenue, one of the longest and most attractive boardwalks in the world make Playa del Carmen a must on your next trip. If you are looking for thrilling nightlife, water sports, and shopping centers you will love this place.
Tulum
This is your perfect choice if you are looking for a more relaxed beachside village to admire beautiful landscapes. You'll love its unique eco-chic atmosphere, delicious food, and scenarios for snorkeling. On top of all, Tulum will give you a spectacular instagrammable scenery: the ancient ruins of a Mayan city overlooking the magnificent Caribbean Sea.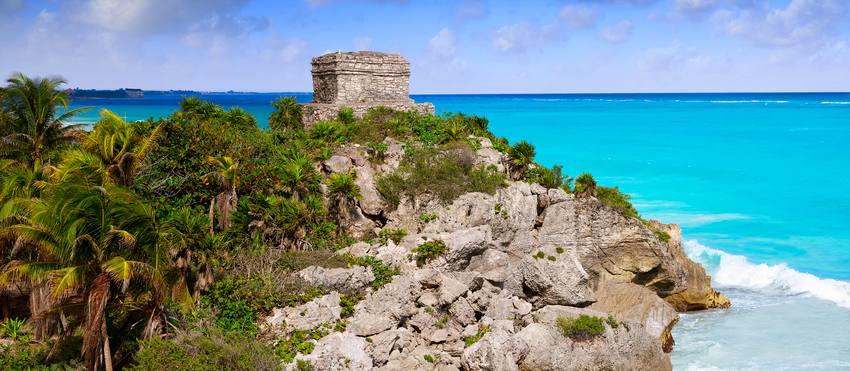 Akumal
Akumal —or "turtle place" in Mayan language— is located just 25 minutes north from Tulum. This small, low-wave bay will be a dream for snorkeling and watching sea turtles lay their eggs. Thanks to conservation projects, the number of turtles found is quite larga, and you can live the endearing experience of swimming side by side with these beautiful species.
Xcaret
Recognized in 2016 as The Best Thematic Park in the World, Xcaret offers visitors the opportunity to embark on a thrilling adventure discovering mayan wonders. Navigate underground rivers, tour the jungle, swim with dolphins, partake on wine tastings, dive and snorkel on pristine waters. Feel anew with Temazcal ceremonies, admire a spectacular show about Mexican culture, or simply walk the many museums found here. All this an more awaits.
Isla Mujeres
This island is located 8 miles from Cancun and is reachable only by ferry. Different natural Settings include the beautiful "Playa Norte" beach, mangroves, natural parks, and the striking Underwater Museum of Art. You will understand why this destination is sought by thousands of tourists every year.
The Cenote Route
One of the main attractions of Riviera Maya are cenotes, which are natural pit caves or sinkholes with groundwater. Near to Puerto Morelos and Leona Vicario towns, there is an extraordinary 22-mile cenote corridor. Alongside this route, you will be able to discover the exotic flora and fauna of the region, as well as caves with underground rivers perfect for swimming, off-road tours, cycling, zip-line rappelling, and more.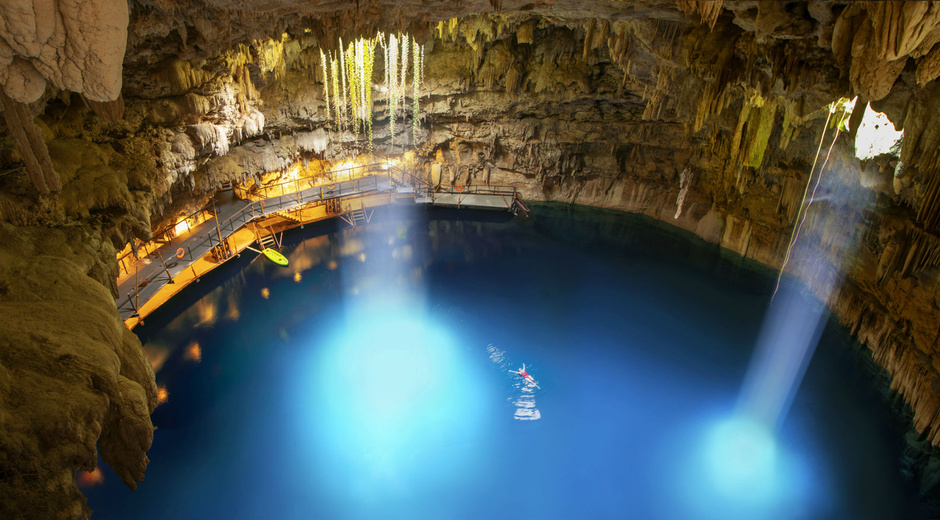 Cozumel
Being the third largest island in Mexico, Cozumel is a perfect spot for enjoying tranquility surrounded by nature. This paradise will fit your desire to explore the Caribbean depths while you snorkel over different species of corals, flora and fauna in Palancar and Chankanaab National Parks. You cannot miss "El Cielo" (The Heaven), a beautiful white sandy beach with pristine waters where you can admire colorful starfish.
Riviera Maya is one of Mexico's destinations with the most natural attractions. Deciding which to visit may be difficult, so if you would like to add any of your preference, share on the comments section below to help other travelers explore the magic wonders of the Mexican Caribbean.
Keep an eye on our post feed to discover the next and last "list of places to visit" while in Velas Resorts destinations!