Beach vacation: 9 incredible outfits
A trip begins from the very moment you start planing it, and part of the process includes choosing the beach look and attire that will go ad hoc with the activities you have scheduled, considering the weather, and the ambiance of the resort you will spend some days at.
Here we share 9 outfit ideas that will work fantastic during your vacation time in the trendiest beach destinations in Mexico, we refer of course to Puerto Vallarta-Riviera Nayarit, Riviera Maya, and Los Cabos.
Don't forget the weather
Weather is one of the first things to be considered when planning your outlook, as it varies depending on the season.
Take a look at this table to find out what average temperatures you will find during your visit to each destination:


One outfit for every plan
1. For an elegant evening
Being one of the most outstanding gastronomic capitals in the world, Mexico offers unparalleled culinary experiences in award-winning restaurants and modern bars framed by elegant atmospheres, so you will want to pack more than two elegant outfits for those spectacular evenings.
Sandals, T-shirts, shorts and top tanks are off the list, so opt for closed shoes and sleeved shirts for him, and elegant blouses and dresses for her. This type of etiquette is known as resort-elegant, or elegant-casual, which is usually more formal like the ones you'd choose in any city around the world, but preferring light fabrics and adding shawls or light sweaters for the cooler months.
These outfits are ideal to enjoy the fine dining restaurants and bars at Velas Resorts.
Grand Velas Riviera Nayarit | Grand Velas Riviera Maya | Grand Velas Los Cabos | Casa Velas | Velas Vallarta | Mar del Cabo
---
2. A day by the pool or the beach
These three destinations are chosen by celebrities to spend a few days away from everything, surrounded by exclusivity and luxury. So looking fashionable is a must while you sunbathe on the beach or take a dip in the sea or the pool.
Take a look at these ideas and get inspired: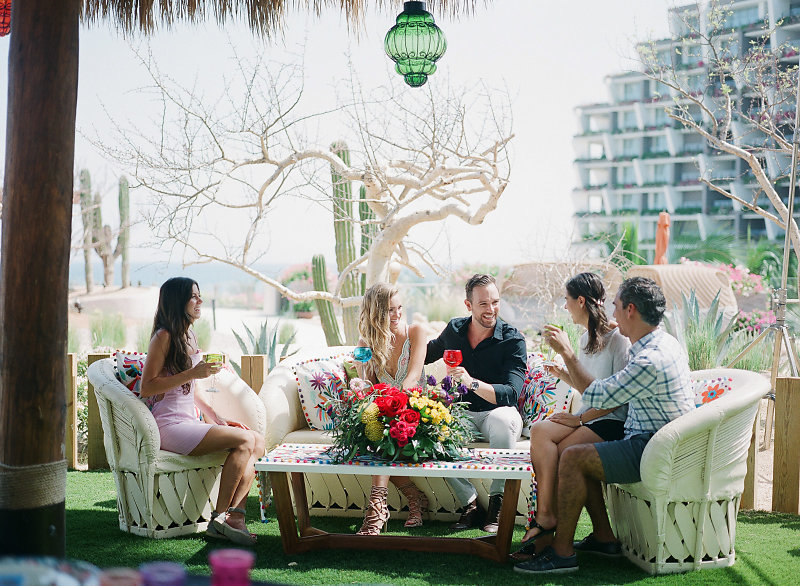 Don't forget to pack sarongs, kimonos, or cover-ups, as well as shorts and suitable footwear: many of the daytime restaurants require adding these accessories when entering their facilities, including those at Velas Resorts.
Grand Velas Riviera Nayarit | Grand Velas Riviera Maya | Grand Velas Los Cabos | Casa Velas | Velas Vallarta | Mar del Cabo
---
3. At trendiest beach clubs in town
Beach clubs are among the unmissable spots to visit, and their chic vibe to the beat of guest DJs is our inspiration to choose a look that matches those magical atmospheres.
What about these outfits?
---
4. Touring the natural wonders
Exploring the destination may require a comfortable yet chic look. Take a glimpse at these ideas that will blend with nature while you visit Chichén Itzá, horseback riding the Sierra Madre, or take a camel ride through the Los Cabos desert.
---
5. Trekking
If you enjoy long walks, Puerto Vallarta offers fantastic trails to explore as you explore the Sierra Madre. In Riviera Maya, do not miss the ecotour organized by Grand Velas to learn more about the flora and the friendly resident animals such as spider monkeys, toucans, and raccoons.
---
6. Strolling downtown
City centers are the epitome of culture and tradition gathered in one place; they are the heart of the city. So you'd like to add a casual touch to your visit, wouldn't you? Take advantage of the moment to capture impressive photos that will go directly to your Instagram feed —with you looking like an authentic magazine model.
---
7. Aventure tour
Whether flying through the treetops aboard zip lines, descending waterfalls, or surfing the waves, add a unique style to your adventure tour. Simple t-shirts, shorts or bermuda shorts, a good, comfy pair of shoes, and bathing suit —as many tours include dips in the sea—, will work.

---
8. Onboard a boat or private yacht
Many attractions are only accessible by sea, such as Yelapa and Majahuitas in Puerto Vallarta or Islas Marietas in Riviera Nayarit. You can even plan a day on your private yacht navigating the waters of the Caribbean Sea or the Sea of ​​Cortez. A casual look will be your perfect option, choosing light colors, plain shirts, and a hat, without leaving a windbreaker or light sweater behind —even in hot seasons, the breezes get chilly when sailing open seas.
---
9. Relaxation + fitness
Being on vacation does not mean leaving your health and beauty routine aside. Whether it is a day at the spa, at the gym or exercising outdoors, you will always want to look your best version.
Some ideas for you:

So, start packing! We'd love to take a look at your perfect outfits while on vacation, using the hashtag #MyVelasExperience.