Mexican artists we love
Creativity is one of the human beings' immanent characteristics. Art, as an expression of that creative spirit, has the power to evoke emotions and feelings in the viewer and bring add a vivid touch to any atmosphere.
According to the English neurobiologist Semir Zeki —who has coined the term "neuroaesthetics"— impulses in the brain after been stimulated by the beauty present in any art expression, are comparable to the feeling of love and pleasure, and releases dopamine.
Architect and interior designer Melín Castro, takes these facts into account when selecting the art pieces that are displayed at the Velas Resorts' hotel collection. It is undeniable that putting a foot at their lobbies and suites, one feels transported to a pleasant and harmonious atmosphere that invites to enjoy the space.
Find more about the painters and sculptors who liven up these hotels and resorts with their art. You might even had the opportunity to walk upon some of them, and take a moment to admire their strokes at least once during any of your visits.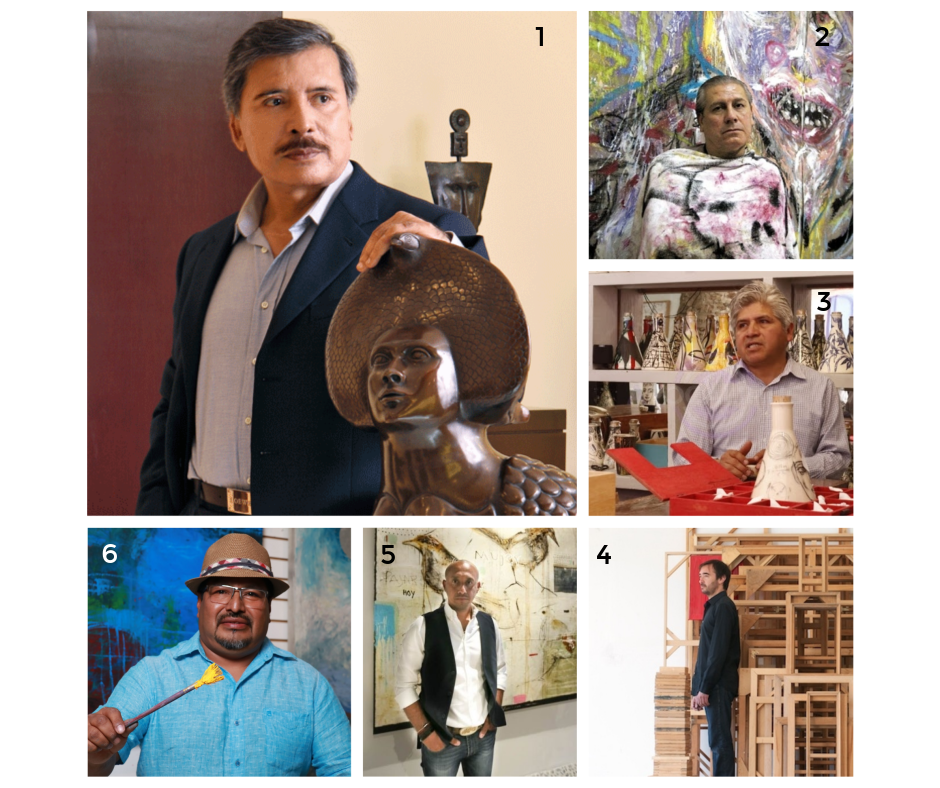 1. Sergio Bustamante
This Sinaloan painter, sculptor and designer has an international acknowledged career, which has allowed him to open galleries in different countries such as the United States, Russia and Japan.
His imaginary is an allegory of characters showcasing friendly faces, staring at visitors with frank smile. Bustamante often replicates the beauty found in nature and the animal kingdom, while adopting fantastic and playful forms.
In 2005 he received the "Mr. Amigo" recognition in Brownsville, Texas, and recently won the "Sinaloa de las Artes" award.
Find a display of beautiful sculptures at unrepeatable, elegant suites at Casa Velas boutique hotel. You may also recognize the sculpture "In Search of Reason" located by the Puerto Vallarta's Malecón.
2. Alejandro Colunga
Originally from Guadalajara, Jalisco, Alejandro excels in sculpture and painting art disciplines. He has been invited many times to exhibit his work in cities like New York, San Francisco, Bogotá, Paris, Guadalajara and Puerto Vallarta.
His conceptual sculptures become functional art-objects, many of which resemble furniture pieces.
You may recognize The Magician and his Lectern, which are in charge of welcoming you when visiting Grand Velas Riviera Nayarit and Grand Velas Los Cabos. These sculptures aim to embody a remarkable host's warmth, as "true magicians are those who make art with their exceptional service." This is the reason behind the legend "Here is where the magic begins" that can be read on the lectern.
His sculptures are displayed at "La Rotonda del Mar" on Malecón in Puerto Vallarta.
3. Francisco Huazo
This prolific artist was born in Mexico City, and studied at the prestigious La Esmeralda National School of Painting, Sculpture and Engraving, by the National Institute of Fine Arts. He specialized in ceramics but his work include paintings and prints.
He obtained a Graphic Production scholarship at the Bob Black Burn Workshop in New York, United States and has a wide repertoire of solo exhibitions in cities such as Tokyo, San Diego, Morelia, San Luis Potosí and Mexico City.
His artwork takes part of important collections including the ones from the Museum of Contemporary Art of Morelia, Tama Art University Museum of Tokyo, Ministry of Culture of Egypt, Municipal Gallery in Hungary, Museum of ceramics of Teruel in Spain and the Franz Mayer Museum, Mexico DF
Many of his works can be appreciated at the lobbies of Grand Velas Riviera Nayarit, Grand Velas Riviera Maya and Grand Velas Los Cabos. The latter includes pieces exhibited in the Convention Center's foyer. Do you have a favorite?
4. Luis Rodrigo Medina
Even from an early age, Luis Rodrigo began to find interest in sculpture, painting, acting, music, drawing and set design.
This artist from Guadalajara, Jalisco, received a scholarship to study drawing at the National Superior School of Fine Arts. He studied engraving at Atelier 63 in Paris, France in 1999. A few years later he attended the Film Appreciation workshop at the Visual Arts Center in his hometown.
He has more than a dozen of individual exhibitions in cities such as Istanbul, Valencia, Paris, Miami, Guadalajara and Mexico City.
You will find his piece "Family Tree IV" in the corridors of the Grand Velas Los Cabos' Convention Center.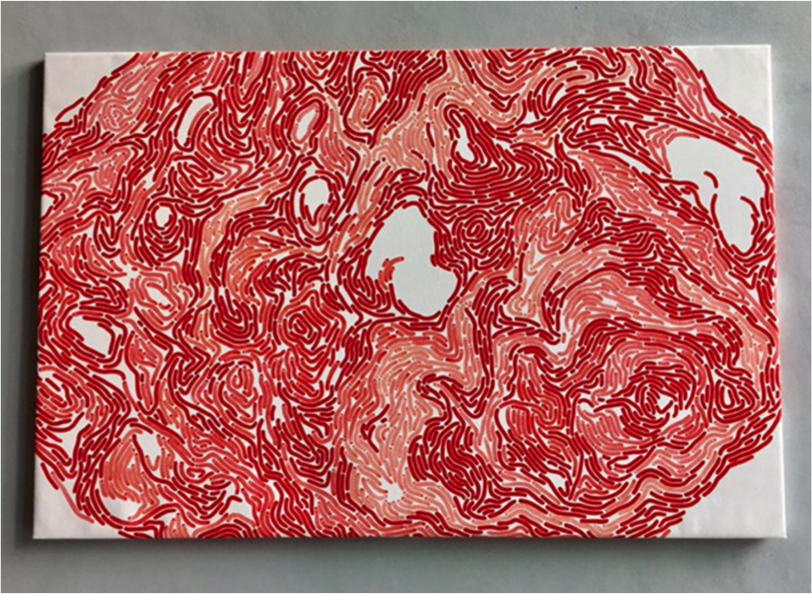 5. Amador Montes
A graphic designer by profession, Amador would soon discover that painting was his true passion, and he extended his knowledge to drawing, engraving, painting and photography.
He finds great inspiration in contemporary Oaxacan art expressions, and has been invited to take part on exhibitions in important galleries and museums in our country.
His artwork is part of the collection of public and private collections in Mexico and the United States, and in different universities, including Exeter, Birmingham, Manchester and The London School of Economics and Political Science (LSE).
His work entitled "Birds in Migration" is exhibited in the Lobby of Grand Velas Los Cabos, next to Amat coffee shop. Do you remember it?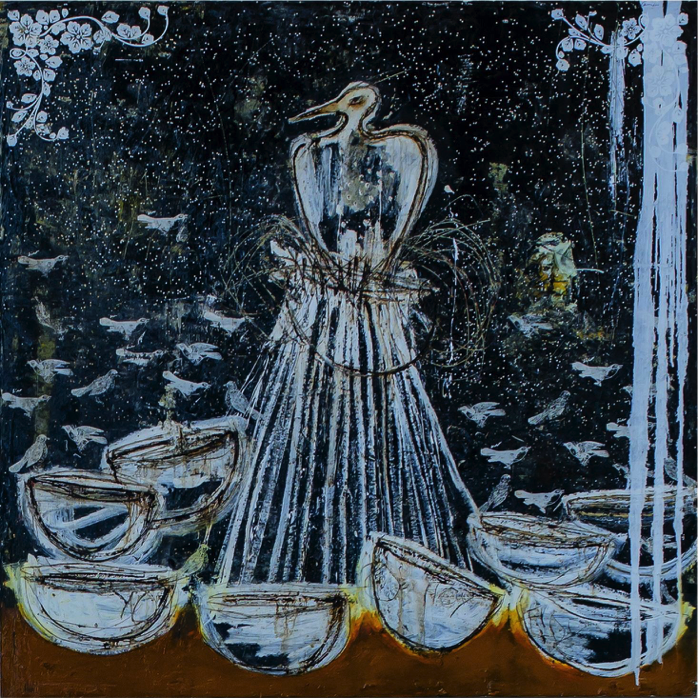 6. Rosendo Pinacho
This Oaxacan artist was trained at the School of Fine Arts of the Autonomous University Benito Juárez de Oaxaca under the tutelage of teacher Shinzaburo Takeda.
He has found his artistic references in the work of Mexican and European masters that he has studied carefully in visits to museums and trips abroad. But the great reference of its theme is the legacy of its land, its customs and its legends and the unity of the human being with nature and animals.
His pieces have been present in group and solo exhibitions in galleries and museums in various countries of the world, among which Japan, the United States, Argentina and several European countries stand out.
His painting "Hummingbird Space" can be admired at the Foyer of Grand Velas Los Cabos's Convention Center.
.
.
.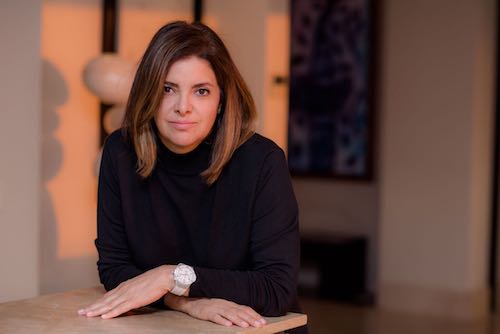 About Melín Castro
Founder of Melín Castro Design, this architect and interior designer counts among her most prominent projects, the interior design of Velas Resorts including the hotels Grand Velas Riviera Nayarit, Grand Velas Riviera Maya, Grand Velas Los Cabos, Velas Vallarta and Casa Velas.
Instagram @melincastrodesign