Learn how to do your own smoke ceremony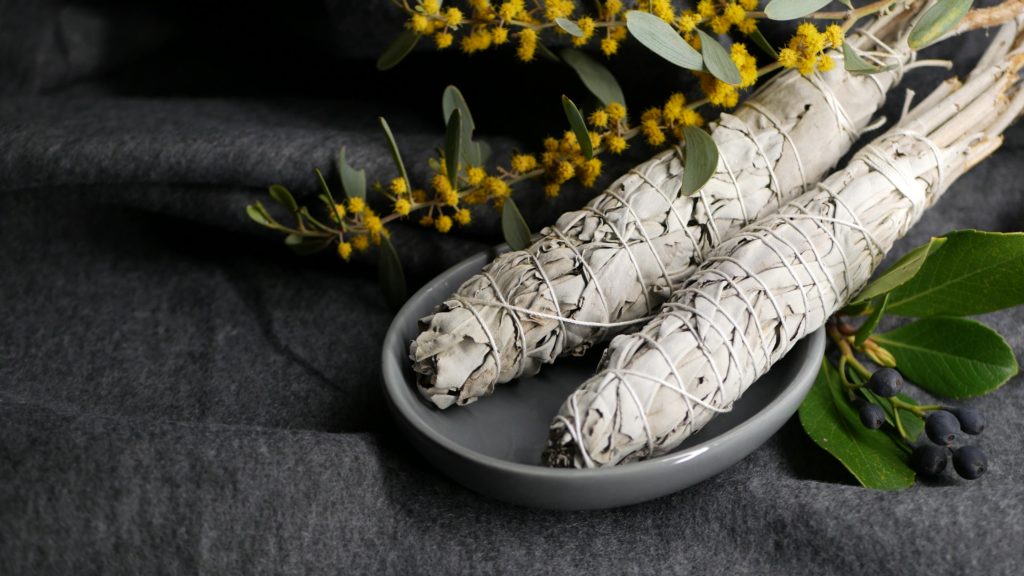 Now that the end of the year is coming, 2022 seems like an opportunity to start from scratch and create new routines and rituals. Smudge sticks are an excellent option to help you leave bad energies behind and open your heart to projects full of positivism.
The smoke ceremony is an ancient spiritual and energetic cleansing technique that uses some fragrant herbs and flowers as incense—such as sage, lavender, rosemary, roses, and many more— in order to purify the energy of a space or the energy within you. This practice dates from ancient Egypt, Babylon, and Greece. In Mexico, the pre-Hispanic cultures also made use of these rituals to cleanse the spirit, as well as many other cults around the world for mystical and sacred purposes.
Smudge sticks aimed to repel evil spirits, eliminate negativeness, and attract positive energy. A custom that continues nowadays, in addition to other therapeutic properties that herbal scents provide, such as clearing the mind, calming anxiety and stress, and increasing creativity.
Each herb has a different objective and energetic purposes. For example, sage is the most popular herb for attracting good energy and protection. We invite you to revise the many properties and benefits of each plant and flower before creating your bouquet to make the most out of this ritual. Here are some ideas of herbal options and the benefits they provide:
Rosemary: Heals, releases, and opens closed hearts.
Sage: The most classic herb to smudge; it removes your negative energy as well as that of your spaces.
Lavender: Cleanses, elevates, restores balance, and makes spaces more peaceful; it also attracts the energy of love.
Palo Santo: It can be used to bless, heal and consecrate. It attracts love, creativity, and good fortune.
Chamomile: Balances the solar plexus chakra allowing emotional tensions to release.
Basil: Attracts good fortune and success, and promotes reconciliations.
Laurel: Purifies and protects.
Roses: They symbolize love, passion and courage, and also intensify femininity and intuition.
How to make a smudge stick?
SE Spa's Atelier at Grand Velas Riviera Maya shares the following easy guide to make your own smudge:
Cut the branches of the different herbs and flowers selected into 6 to 10 inches (17-25 cm) sticks.
Measure a cord (preferably made of cotton) four times the length of the branches, and cut.
Put the herbs together and intertwine them from the branches with the thread, from top to bottom. Add as many branches to your bouquet according to the thickness desired and tie each end of the thread or cord with a knot. Cut the edges to make it look a little neater and cleaner.
Let it dry in a basket for 7 to 10 days (or more, depending on the plants you chose).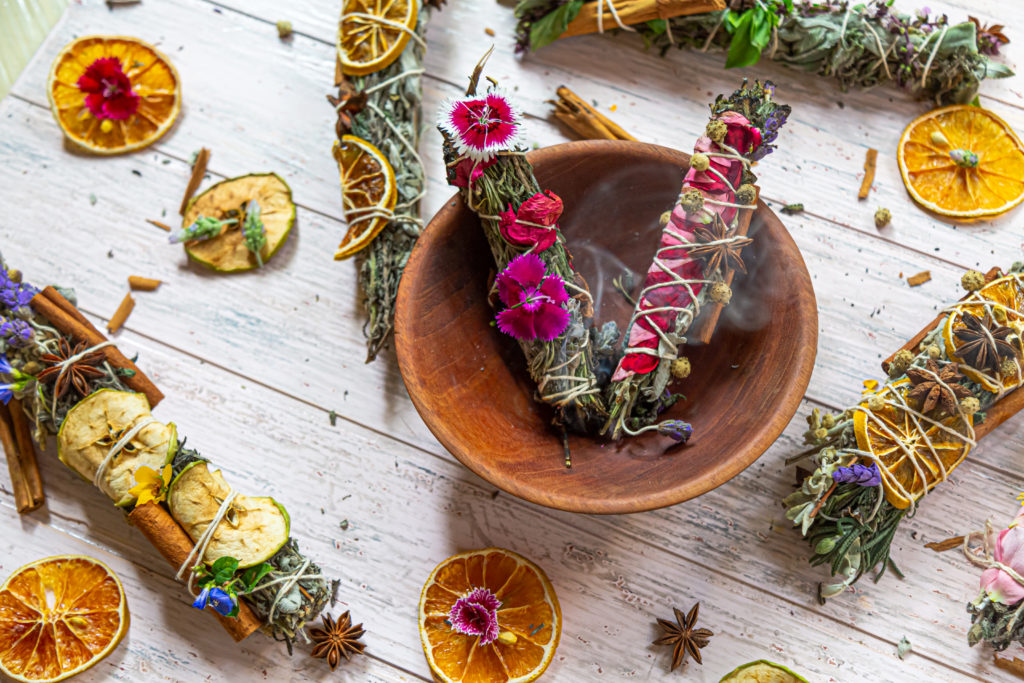 How to do a smoke ceremony?
Before you start, it is important to have a clear purpose, and that your mind and heart are 100% committed to what you will do next.
Light the smudge and allow it to burn a little. When it is consumed by the fire it will begin to release the sacred smoke. Now it's time to go through the room or the space from corner to corner, making circular movements to the right —in a clockwise direction— to fill the space. If the goal is to smoke a person, start at the feet and work your way up to the head in circular motions. This practice can be accompanied with a prayer to enhance the intention.
Close the ritual by breathing deeply and clearing your mind. Think about what you want, what makes you happy, and the people you love; then, imagine the scenario that leads you to that feeling of well-being.
Some prayers for the smoke ceremony
We share with you two prayers to inspire your ritual, and invoke love or to purify a particular space; you can create your own personal prayer as well. Remember to put all your intentions in every word you pray.
Love
May this space be purified,

clearing the energies that do not contribute to my well-being,

and creating a space for love, peace, and light.

I wish to cleanse and purify my mind, body, and spirit,

awakening my inner beauty, my truth, and my power.
Spaces
Cleanse this space, erase the past;

I have found my happiness.

Fill the spaces with love and joy;

I am ready to receive your blessings.

With this smoke, I release the useless energies,

the negativity that surrounds me,

the fears that limit me,

making way and room for harmony.
Have you ever practiced a smoke ritual? Tell us about your experience in the comment box below, and don't forget to subscribe to our newsletter and our YouTube channel to receive more topics like this directly in your inbox!