A special recipe to celebrate Thanksgiving
It's not just a scene from a movie, Thanksgiving is one of the biggest holidays in the United States. Every 4th Thursday of November, it is more than a family reunion with a special dinner, it is a tradition known worldwide that has a very particular history and a very important meaning for Americans.
In 1621, a group of settlers from Plymouth, now Massachusetts, prepared a meal to share with the Wampanoag Indians, to celebrate the fall's harvest, and to appreciate their teachings on hunting and farming.
It was until 1863, that Abraham Lincoln proclaimed Thanksgiving Day as a national holiday that would be celebrated on the last Thursday of November, and the main motive since then continues to be to share with loved ones a dinner in gratitude to the moments of the year.
Among a very varied menu such as carrot cake, cranberry sauce, vegetable cream, and more, the star of the holiday is turkey. To a classic recipe, we gave the Velas Resorts-style and a very Mexican touch, we share the step-by-step to prepare a delicious adobo turkey… and a second recipe to close this special celebration tied with a lovely ribbon. Shall we start cooking?
Adobo Marinade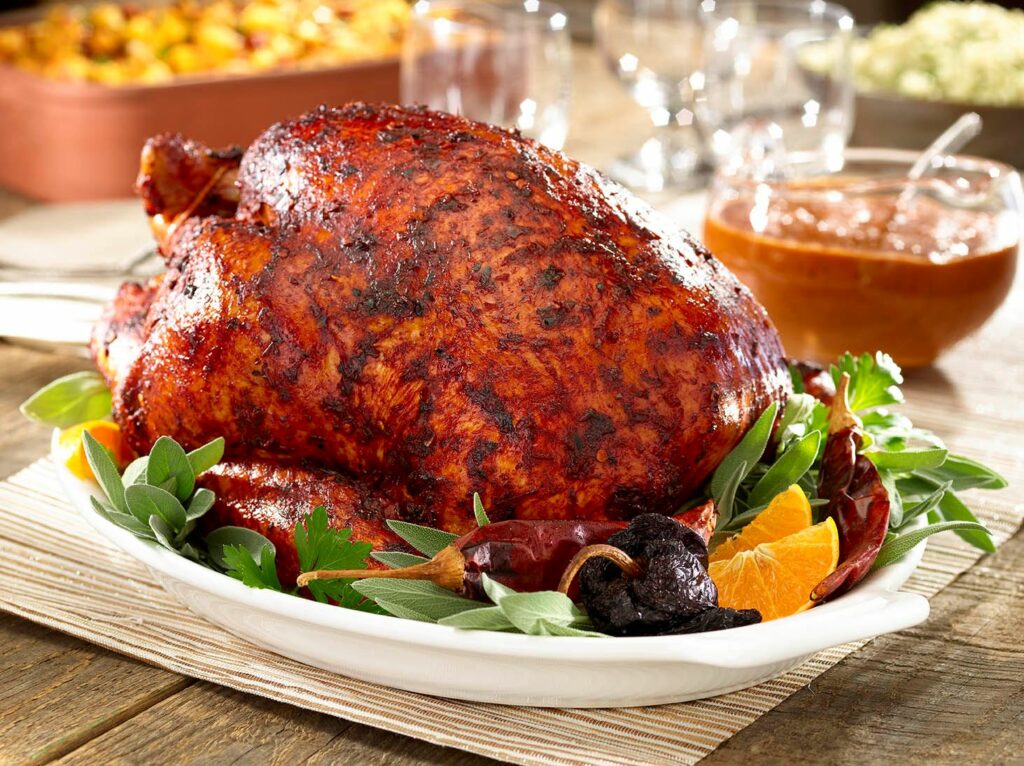 Ingredients:
8 guajillo chiles, deveined
1 white onion
1 head garlic
1 C sour orange juice
4 lemons, juice only
¼ C achiote paste
¼ tsp cumin
1 tsp oregano
½ tsp cinnamon
½ C pineapple juice
Salt to taste
Pepper, to taste
Preparation:
Add chiles to a medium saucepan with the onion, 4-5 cloves of garlic (peeled), and enough water to cover. Bring to a boil for eight minutes.
Blend mixture with half a cup of orange juice, lemon, achiote, cumin, oregano, cinnamon, salt, and pepper. Strain and reserve.
In a clean blender, grind the second half of the garlic head, pepper, pineapple juice, and the other half a cup of orange juice in the blender.
Cover a thawed turkey with both mixtures to marinate for 24 hours.
Place turkey on a roasting rack in a shallow roasting pan and cook breast side down based on weight.
And for the best moment of this celebration, you cannot miss a delicious dessert:
Pumpkin pie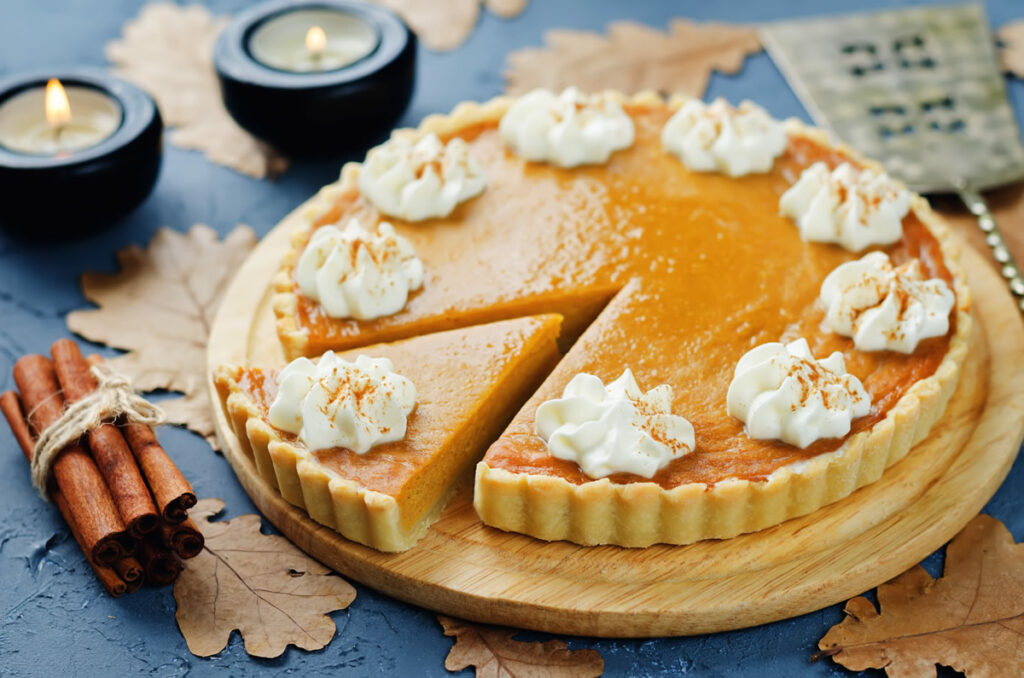 Ingredients:
For the pie crust
6.7 fl oz butter
3.5 oz granulated sugar
1⁄2 pc. egg
10.5 oz flour
For the stuffing
2.5 oz pumpkin pulp
3 pcs. of egg
1 pinch of ground cinnamon
1 pinch of powdered clove (optional)
1⁄2 pc. of nutmeg, grated
1 tbsp. of vanilla extract
4.2 oz of heavy cream
3.3 fl oz condensed milk
Preparation:
Pie crust
Cut the butter into cubes, let it warm for approximately 10 minutes before using it.
Add the sugar and mix.
Add the half piece of egg and the flour, mix without working the mixture too much.
Refrigerate for two hours and spread with the help of a roller to the desired thickness.
Stuffing
Bake the pumpkin until soft.
Remove the pulp.
Mix in a blender the pumpkin pulp, eggs, cinnamon, and nutmeg for 1 minute.
Add the heavy cream and vanilla extract.
Add powdered cloves if desired.
Pour the mixture into the baking tray and bake at 325°F for approximately 30 minutes.
Happy Thanksgiving!